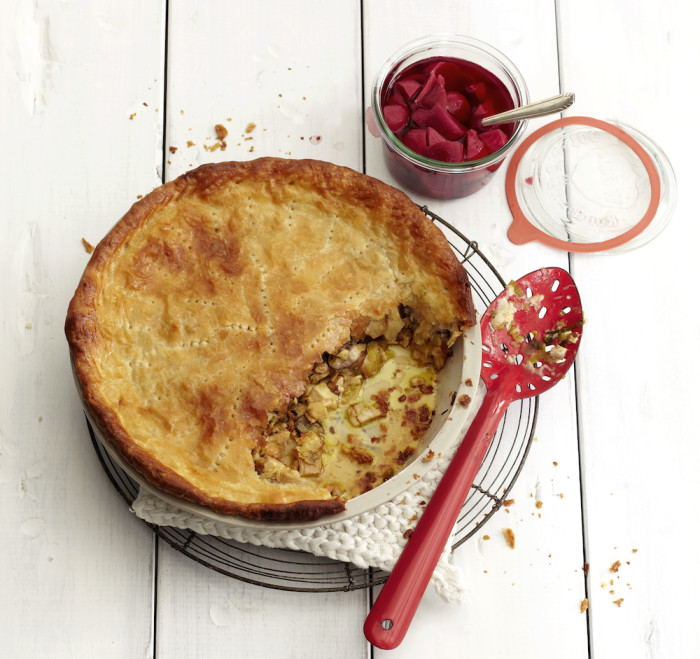 Chicken pot pies have a bad reputation—they call to mind the gluey, frozen things that you scooped up in front of the TV as a kid while watching Brady Bunch reruns. Well, here's one that's subtle, fresh, and — dare I say it? — elegant. With layers of chicken, tarragon, mushrooms, and leek topped by crisp puff pastry, it's hard not to return for a second helping. You can have it on the table in under an hour, far less if you have leftover roasted chicken on hand. Use wild mushrooms if you have them. Morels will transform this pie into a dinner party-worthy main course or starter.
Make your beets first so they're ready to eat when the pie comes out of the oven. A salad of tossed greens is a perfect accompaniment.
Ingredients
For the pie
5

tablespoons

butter

2

to 3

leeks, white and light green parts only cut into thin rounds, about 1 cup

10

ounces

cremini mushrooms, brushed clean and sliced (about 3 cups)

1/4

teaspoon

kosher salt

3

cups

cooked chicken meat, chopped

1/4

cup

fresh tarragon leaves, chopped

1

shallot, minced

1

tablespoon

all-purpose flour

1/3

cup

heavy whipping cream

black pepper

1

sheet

frozen puff pastry, thawed per package directions, but still chilled

1

egg, beaten
For the pickled beets
3

to 5

beets, scrubbed, tops trimmed

1

cup

white wine vinegar

1

teaspoon

kosher salt
Directions
For the chicken pie:
Preheat the oven to 450°F.
Melt 2 tablespoons of the butter in a large sauté pan over medium-low heat. Add the leeks and cook, stirring frequently, until softened but not browned. Transfer to a plate and set aside.
Add another tablespoon of butter to the same pan, add the mushrooms, and raise the heat to high. Sprinkle in the salt and cook for 5 to 8 minutes, or until the mushrooms release some of their liquid and begin to dry out in the pan. They should be partially browned and very fragrant. Transfer them to another plate and set aside.
Build the pie in layers in either a ceramic pie pan or, if you're feeling more rustic (or more macho) in a cast-iron frying pan. Gently press the chicken down in the bottom of the pan to form an even layer and scatter the tarragon and shallot on top. Next, add the leeks, and finally the mushrooms. Set aside.
In the same sauté pan you've been using, melt the remaining 2 tablespoons of butter over medium-low heat. When it's bubbling, use a wire whisk to mix in the flour. Cook for 1 minute, or until it begins to dry out. Add the cream, whisking all the while, and cook for another minute or so, or just until the cream bubbles. Pour the sauce over the pie, using a rubber spatula to scrape the pan and gently distribute the sauce. Add a healthy grinding of pepper before laying on the puff pastry. Once it's in place, cut it to fit the pan, poke a dozen holes in it with a fork, and, using a pastry brush, brush the top with the beaten egg.
Bake for 25 to 30 minutes, or until the top is beautifully browned and puffy. Let cool for 5 minutes before cutting. Bring this impressive looking pie to the table and  serve it there.
For the pickled beets:
Preheat the oven to 450°F.
Lay the beets on a large sheet of heavy-duty aluminum foil, drizzle on 1/4 cup water, then wrap them up very tightly in the foil by crimping the edges together all around. Set the package on a baking sheet/tray and roast for 30 to 40 minutes, or until the beets are tender when pierced with a knife into the center.
When the beets are done, unwrap the package and let them cool enough so that you can peel away the skins with your fingers. They should come off fairly easily; use a paring knife where they stick.
Cut the peeled beets into 6 or 8 wedges, depending on their size. Pack them into a quart jar and pour in the vinegar and 1 cup of water. Sprinkle the salt over the top. If the beets aren't covered, add equal parts water and vinegar until they are, along with 1/2 teaspoon salt per cup of liquid.
Let stand for at least 1 hour before you serve. Store for up to 2 months, tightly covered in the refrigerator.