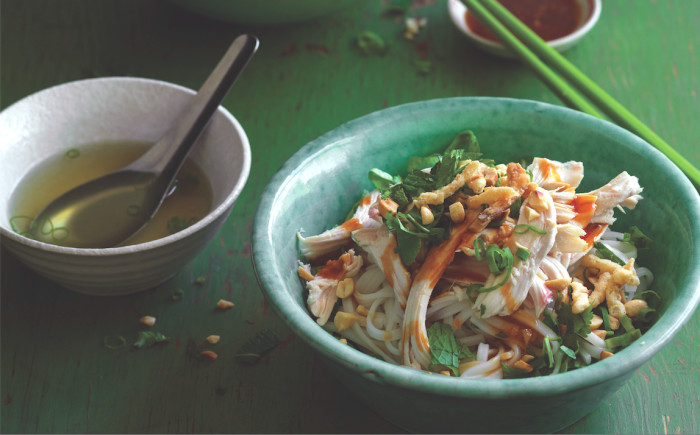 If you're ready to start eating pho like a pro, pick up a copy of Andrea Nguyen's The Pho Cookbook and prepare to slurp rice noodles like your life depends on it. Packed with recipes, techniques and advice from all over Vietnam, Nguyen's newest book is exactly what you need to pump up your beef bone soup game. This hearty chicken pho noodle salad is an inventive spinoff. 
You would think that Hanoi, the birthplace of Viet culture and pho, would stay close to tradition. But it's actually a city open to new pho ideas, such as this chicken and rice noodle salad dressed with a tangy-spicy soy sauce and served with a side of hot pho broth. The broth is enjoyed as a chaser to the somewhat intense noodles and chicken.
Pho Hanh on Lan Ong Street in the Old Quarter is one of the most popular spots for this dish. One balmy Saturday night when I was there, the sidewalk seating was packed with young families, friends, and couples. Pho Hanh used to specialize in traditional chicken pho but switched to the salad to offer a cooling version of pho soup in the warmer months. It's simply a good batch of chicken pho presented differently, which explains why it seems unusual yet tastes familiar.
Make this with leftover chicken and broth, or poach 1 pound boneless chicken in the Quick Chicken Pho; there will be enough liquid for the sauce and broth side.
The sauce may be made 2 days in advance and refrigerated; return it to room temperature before using. The vegetables and noodles may be prepped hours in advance. If the noodles harden, soften them in the microwave oven via 30-second blasts. Ideally, they're warmish.
Ingredients
4

cups

chicken broth

1/2

teaspoon

fine sea salt

2 1/2

tablespoons

sugar

1

tablespoon

chili sauce or Sriracha sauce, plus more for serving

2

tablespoons

unseasoned Japanese rice vinegar

3

tablespoons

regular soy sauce

1 1/2

tablespoons

canola or other neutral oil

2

teaspoons

finely chopped garlic

1 1/2

teaspoons

cornstarch, dissolved in 2 teaspoons water

10

ounces

dried medium flat rice noodles

fish sauce

12

ounces

cooked chicken from any chicken pho recipe

2

thinly sliced green onions, green part only

2

cups

butter lettuce or soft leaf lettuce, cut into narrow ribbons with spines intact

1/4

cup

coarsely chopped fresh cilantro, leafy tops only

1/3

cup

coarsely chopped fresh mint or Thai basil leaves

1/3

cup

unsalted, roasted peanuts, coarsely chopped

1/3

cup

fried shallots or onion, homemade or purchased
Directions
For the salad
Combine 1⁄2 cup of the broth with the salt, sugar, chile sauce, vinegar, and soy sauce. Set this sauce mixture near the stove.

Put the oil and the garlic or spice blend in a small saucepan. Heat over medium-low heat until the garlic sizzles and is light blond (3 to 4 minutes), or the spice blend is lightly fragrant (1 minute). Move the pan off heat and wait about 15 seconds to cool slightly, then pour in the sauce mixture. Replace over high heat and bring to a boil. Stir the cornstarch, then swirl into the bubbly sauce. Once thickened, about 15 seconds, slide to a cool burner. Let rest for 10 minutes before using. You should have about 1 cup.

Meanwhile, boil the noodles in a pot of water for 5 to 7 minutes, until tender chewy (if available, use package directions). Drain, cool quickly under running water, then set aside to drain and cool.

Taste the remaining broth (about 3 1⁄2 cups) and season with fish sauce as needed to create a lovely savory finish. Reheat the broth in a saucepan over medium heat. Meanwhile, cut or shred the chicken into bite-size pieces and, if needed, warm in a microwave oven to remove the chill and refresh; ideally the chicken has some succulence. Set aside.

To assemble, have 4 rice bowls for broth and 4 noodle-soup-size bowls for the salad. Put a little green onion into each rice bowl (use the rest for the noodle salad). Set near the broth.

Divide the lettuce among the noodle soup bowls. Add a portion of noodles and chicken, then about 1⁄4 cup of the sauce. Top with the remaining green onion, cilantro, mint (or basil), peanut, and fried shallots (or onion).

Ladle the hot broth into the rice bowls. Serve immediately with the noodle salad bowls. Invite guests to wield spoons and chopsticks to toss their salads and enjoy the broth as soothing interludes. If the noodles seem too heavy with sauce, mix in a spoonful of broth. Offer extra chile sauce to heat seekers.