Chicken Peanut Perloo Recipe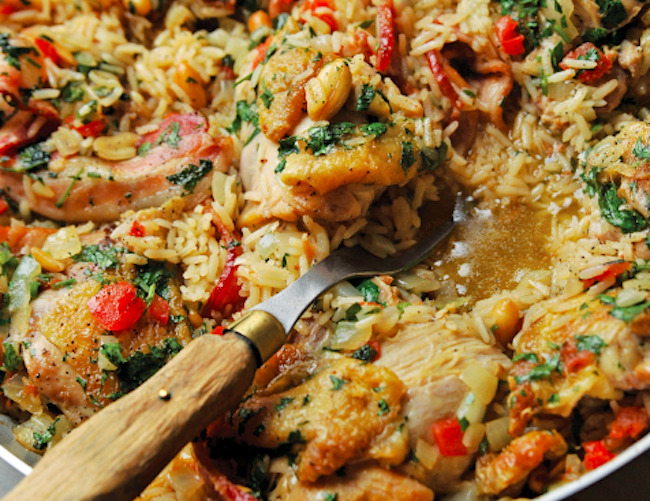 Photo: Ron Manville
We may receive a commission on purchases made from links.
Perloo is the Southern term for pilaf or pilau, a dish of seasoned rice often served with meat. Cookbook author, food and drink writer and Food Republic contributor Chris Chamberlain loaned us this recipe from his new book, The Southern Foodie, which, by the way, sold like hotcakes on QVC. The dish makes a great weeknight dinner.
"This recipe is borrowed from Linton Hopkins. Linton's known for going a little upscale. There are few things more Geogian than peanuts and perloo. It's low-country homey food. We use long-cut Carolina Gold rice, and class it up by putting a little Italian parsley in and good smoky bacon, Benton's if you've got it," says Chamberlain.
Chicken Peanut Perloo Recipe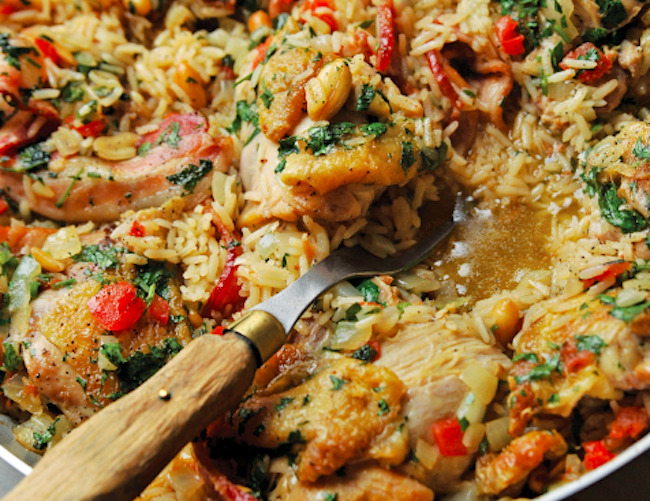 Ingredients
3 tablespoons peanut oil
6 chicken thighs
1 teaspoon salt
1/2 teaspoon freshly ground pepper
1/2 pound Smoked Bacon
1 cup onion
3 cloves garlic
1 cup Carolina Gold rice or other long-grain white rice
1/4 cup roasted peanuts
1/2 cup tomato
2 cups chicken stock
1 bay leaf
1/2 cup fresh Italian flat-leaf parsley
4 sprigs thyme
Directions
Preheat the oven to 325°. Heat the oil over medium-high heat in a large Dutch oven or casserole dish. Season the chicken with salt and pepper. Sauté in the oil until the chicken is golden brown on each side. Remove the chicken from the pan. 
In the remaining fat, cook the bacon until done. Add the onions and sweat until the onions are translucent, without too much color.
Add the garlic and sauté for 1 minute. Add the rice and peanuts and mix to coat well.
Add the tomatoes, chicken stock, bay leaf, minced parsley, and thyme and bring to a simmer, stirring well.
Add the chicken thighs, cover, and bring to another simmer.
Bake in the oven for 30 minutes.
Garnish with the chopped parsley and serve.