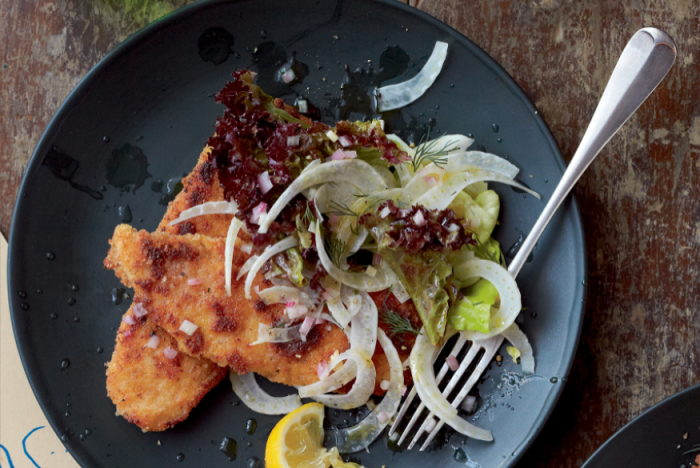 Now here's a cookbook we're on board with. Keepers, penned by two accomplished home cooks and former food editors, is full of recipes that even the most kitchen-challenged can pull off any old night of the week. Sit down, get comfy and let the pros take you on a tour of tonight's super-easy dinner recipe. First up, breaded chicken cutlets with a fresh, healthy salad.
This isn't a novel preparation of chicken Milanese, but it's a good one (even without the traditional pounding of the meat into thin pieces) and can stand alone as a meal. Mounding the salad on top of the chicken, with its crispy, featherweight crust, results in a wonderful combination of textures, temperatures and flavors. The fennel adds crunch and an anise note, but if you don't care for it, leave it out and use extra lettuce or top the chicken with your favorite salad instead. We also like to squeeze some extra lemon juice on the sautéed cutlets before adding the greens.
Ingredients
1/4

cup

olive oil, plus extra for pan-frying

2

tablespoons

white wine vinegar

1

shallot, minced

fresh lemon juice

Salt and pepper

1

fennel bulb, outer leaves removed, cored and thinly sliced

4

large handfuls

lettuce, such as red leaf or butter, torn into bite-size pieces

handful of

fresh dill or flat-leaf parsley, chopped

1/2

cup

all-purpose flour

2

large eggs

2

tablespoons

milk

2

cups

dried breadcrumbs

8

chicken cutlets (each about 1/3-inch thick), patted dry
Directions
In a large bowl, combine the oil, vinegar and shallots. Season with lemon juice, salt and pepper. Top but don't toss with the fennel, lettuce and herbs, then set aside. (You will toss the salad just before serving.)
Put the flour on a large plate. In a shallow bowl, whisk together the eggs and milk. Put the breadcrumbs in a deep dish.
Season the cutlets with salt and pepper. Dredge one in the flour, coating completely, then shake off any excess. Dip it in the egg mixture, letting any excess drip off, then coat with the breadcrumbs, gently pressing it into breadcrumbs so they stick. Put the breaded cutlet on a plate large enough to fit all of them without crowding and repeat with the remaining cutlets.
In a large skillet, heat 1/4 inch oil over medium-high heat until it shimmers. Working in batches, if needed, add the cutlets and cook until golden brown, about 4 minutes. Flip the pieces over and cook until just cooked through, about 3 minutes. Transfer the cutlets to a paper towel-lined platter, sprinkle with salt and tent with foil to keep warm. Repeat with the remaining cutlets.
Transfer the cutlets to plates. Toss the salad with the dressing, check the seasonings, then mound on top of the cutlets and serve.
Tip: You can easily make your own cutlets from chicken breast halves, which are generally less expensive, even if they're already boned and skinned. Put a boneless, skinless breast on a cutting board, lay your hand across the top and gently press it against the board. Using a very sharp knife, cut the breast horizontally in half. Trim off any fat and flatten the pieces as needed with a meat mallet to an even thickness of about 1/3 inch.
Try out these chicken recipes on Food Republic: