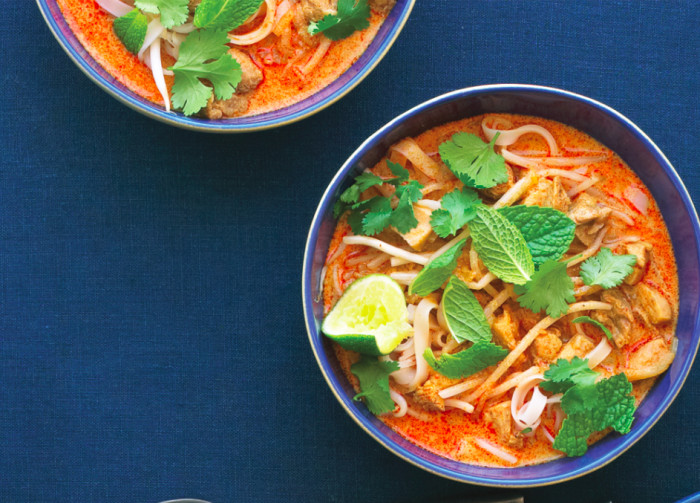 Leave it to West Coast guide to the good life, Sunset Magazine, to throw together a chicken laksa soup recipe so good we'd eat it in Southern California all summer.
The spicy Malaysian laksa soup may have a long list of ingredients, but it's super easy. Malaysian kitchens (in Southeast Asia, in Southern California, and elsewhere) weave Chinese, Indian and Malay culinary strands into a complex cuisine.
Ingredients
2

tablespoons

coriander seeds

1

tablespoon

black peppercorns

1

tablespoon

cumin seeds

1

tablespoon

fennel seeds

4

cloves

1/4

teaspoon

ground tumeric

5 to 8

dried arbol chiles, stemmed

2

lemongrass stalks

3

tablespoons

vegetable oil

1

lb. boned, skinned

chicken thighs, cubed

1

teaspoon

shrimp paste*

3

large shallots

, thinly sliced

1

can (13.5 oz.)

coconut milk

1

quart

reduced-sodium chicken broth

2

teaspoons

sugar

3

teaspoons

kosher salt

1

cinnamon stick

8

ounces

mung beans, rinsed

8

ounces

wide rice noodles

1/3

cup

fresh mint leaves, torn into smaller pieces

1/3

cup

fresh cilantro leaves, torn

lime wedges

Sambal oelek chili paste
Directions
For the sambal oelek chili paste:
Grind coriander, peppercorns, cumin seeds, fennel seeds, cloves, turmeric and chiles coarsely in a spice grinder; set aside. Peel tough outer layers from lemongrass, then mash core with a meat mallet or small, heavy frying pan.
For the laksa:
Heat oil in a large pot over medium heat. Add chicken, shrimp paste, shallots, and reserved ground spices and cook, stirring constantly, until fragrant, 2 minutes.
Pour in coconut milk, broth, sugar, and salt; add cinnamon stick and lemongrass. Bring to a boil, then simmer, covered, 20 minutes.
Boil bean sprouts in a large pot of boiling water until softened, 2 minutes. Transfer sprouts to a bowl. Add noodles to pot and cook until firm, 4 minutes. Drain; rinse well.
Divide sprouts and noodles among bowls. Ladle in soup (remove cinnamon and lemongrass) and top with mint and cilantro. Serve with limes and sambal.
*Find shrimp paste in the Asian-foods aisle of a well-stocked grocery store or at an Asian market.