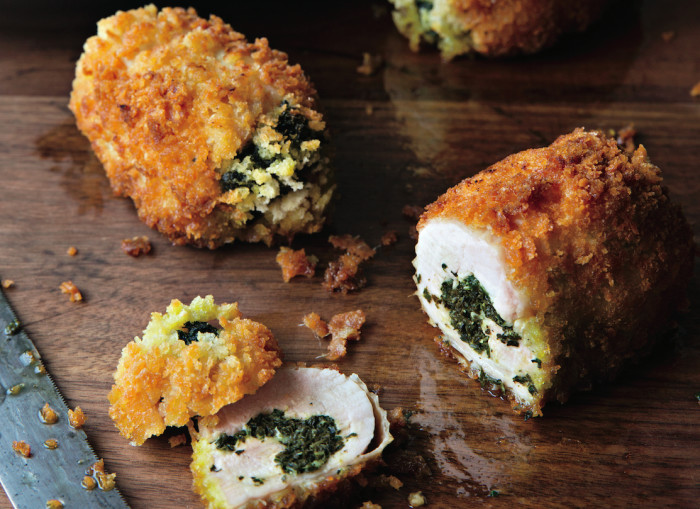 Renowned chef Mario Batali's new cookbook, America — Farm To Table, is a celebration of local farmers around the country. Travel from coast to coast with one of the nation's most beloved culinary faces and see how the master uses local fare to everyone's advantage. Ready to show kale the ultimate respect? Stuff it into juicy chicken, pan-fry and enjoy.
Ingredients
1/4

cup

extra virgin olive oil

2

cloves

garlic, thinly sliced

1

bunch (1/2 pound)

lacinato kale, cut into 1/2-inch ribbons

kosher salt

4

tablespoons (1/2 stick)

unsalted butter, at room temperature

4

ounces

soft goat cheese

3

tablespoons

fresh tarragon leaves, or 2 teaspoons dried

8

boneless, skin-on chicken thighs, pounded 1/4-inch thick by your butcher

freshly ground black pepper

2 1/2

cups

panko bread crumbs

2

large

eggs

1

teaspoon

whole milk

1/2

cup

all purpose flour

1

quart

virgin olive oil
Directions
In a 12-inch sauté pan, heat the 1/4 cup of oil over medium heat.
Add the garlic and sauté until light brown, about 1 minute, then add the kale and 1 teaspoon salt and cook, stirring regularly, until the kale is fully cooked, gray-olive green and very tender, 10 to 12 minutes.
Remove and allow to cool completely.
Place the cooled kale in a food processor, add the butter, goat cheese and tarragon, and process until smooth.
Transfer to a bowl and chill for 30 minutes.
Lay eight 10-inch-long pieces of plastic wrap on the counter, separately.
Lay 1 chicken thigh on each piece of plastic wrap, season with salt and pepper, and place 1 1/2 tablespoons of the kale-butter and 1 tablespoon of the panko in the center of each piece.
Using the plastic wrap to assist, fold in the ends of the thigh and roll, completely enclosing the kale-butter mixture.
Roll very tightly in the plastic to create an impermeable log. Keep in mind that any loose edge will allow the kale mixture to leak out, so be very attentive.
Repeat with each thigh.
Place the wrapped thighs in the refrigerator for 2 hours, or up to overnight.
Place the eggs and milk in a flat bowl and whisk to combine.
Place the flour and a pinch of salt and pepper in another flat bowl.
Place the remaining 2 cups panko in a third bowl with 2 tablespoons salt.
Heat 2 inches of oil in a Dutch oven or a high-sided sauté pan over medium-high heat until it registers 375°F on a deep-fry thermometer.
Remove the chicken from the plastic wrap.
Dip each thigh into the flour mixture, shaking off any excess.
Dip the thighs into the egg mixture, letting any excess drip off, then roll in the panko.
Gently place each thigh in the hot oil, sealed side down, and cook until golden brown, 6 to 8 minutes on each side, until the internal temperature registers 165°F on a meat thermometer.
Transfer to a wire rack set on a rimmed baking sheet and allow to drain for a minute before serving.
If not serving immediately, you can hold the chicken in a preheated 300°F oven for up to 30 minutes.
Find more chicken recipes on Food Republic: