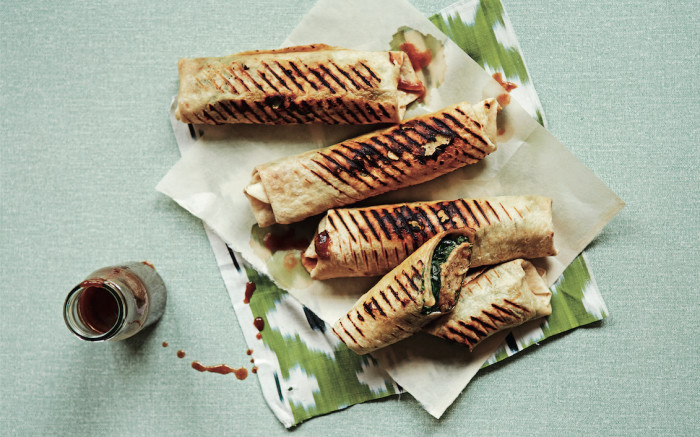 Chef Cyrus Todiwala is a master of Indian fusion cuisine. Using only 10 choice spices from India's vast bounty of spices, he's created a vibrant new recipe collection for home cooks featuring classic and modern spins on favorite South Asian dishes. 

In India the word "kavaab" is used not just for skewered meat but also for meatballs, burgers and small cutlets. In this recipe the meat is combined with spices and dried fruits and rolled into sheek (skewer) kebabs. They're great with salad, tucked inside a wrap, added to a croquette mixture, or even chopped after being half-cooked, then simmered in the sauce.
Ingredients
1

pound, 2 ounces

ground chicken leg and breast

3 to 4

slices

white bread, crusts removed, cubed

1

tablespoon

chopped fresh cilantro stems

10 to 12

leaves

fresh mint, torn

1

3-inch piece

fresh ginger root, peeled and chopped

3 to 4

cloves

garlic, chopped

1/4

teaspoon

ground cardamom

1/2

teaspoon

ground cinnamon

1/4

teaspoon

ground mace

2

fresh green chilies

10 to 12

pitted dates, coarsely chopped

2

tablespoons

golden raisins

12 to 15

cashew nuts

1/4

teaspoon

freshly ground black pepper

Sunflower oil or butter for brushing

salt
Chutney (makes about 1 quart)
5 1/2 to 7

ounces

tamarind pulp

1 3/4

cups

pitted dates

1 1/4

cups

jaggery or 1 3/4 cups dark brown sugar

1

teaspoon

red chili powder

1

heaped teaspoon

cumin seeds

1 3/4

quarts

boiling water
To serve
10 to 12

flour tortillas, warmed until soft

fresh spinach leaves, shredded

1

egg, beaten
Directions
For the rolls
First make the chutney. Place the tamarind in a deep saucepan with the dates, jaggery or sugar, chili powder, and cumin seeds. Pour in the measured boiling water and let soak for 1 hour, stirring occasionally. Put the pan over medium heat and bring to a boil, then partially cover and simmer for 40 to 50 minutes. Strain into a bowl. Remove any tamarind seeds or strands, then purée in a blender. Press through a sieve and blend with the liquid. Season with salt. Taste the chutney and add a little more sugar if you wish. It will keep well for several months in the refrigerator if stored in a sterilized jar and sealed with a screwtop lid.

For the kebabs, put all the ingredients (except the oil or butter) into a food processor and pulse until a soft dough forms. (If you don't have a processor, chop everything finely by hand and mix together in a bowl.) Take a small, flat piece of the chicken mixture and pan-fry it. When you're ready to make the kebabs, cut along the sides of a plastic bag and open it out. Divide the ground chicken into 6 to 8 equal lumps and roll each into a ball. Place a ball just below the fold in the bag. Flap the far side of the bag over it toward you. Take firm hold of the bottom sheet of the bag, place a ruler against the ground chicken and push it away from you. A perfect sausage-shaped kebab forms right in front of your eyes! Stop pushing when it reaches about 5/8 inch thick. Open out the bag and trim the ends off the kebab, then place it on a baking pan lined with waxed paper. Scrape any remaining mixture off of the bag and return it to the bowl. Repeat the rolling process until all the mixture has been used up. Refrigerate for 1 to 2 hours to firm up. Light a barbecue or preheat the broiler. When very hot, put the kebabs on the rack, brush with oil or butter, and cook for 6 to 8 minutes, turning often. Use a thermometer to ensure they are cooked right through (the core temperature should be 150 to 160º F).

To assemble, spread chutney on each tortilla, leaving a thumb-width border around the edge. Top with spinach, then brush the border with beaten egg. Place a kebab about 3 to 4 inches from one end, fold in both sides of the tortilla, then roll up and press to seal. Press down on the barbecue rack or hot grill pan, turning regularly, until hot right through and brown on all sides. Serve immediately with more chutney.