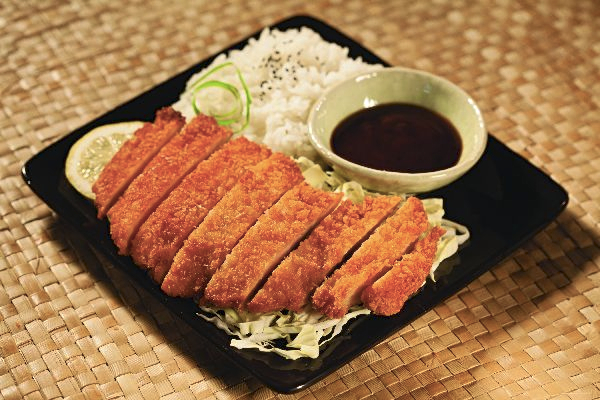 One day in our conference room up in the sky, we got to talking about food cultures we all loved but wanted to know more about. With that, the idea of Around The World In 5 Editors was born. Each day this week, one of the editors breaks in with a lineup of stories, recipes, interviews and personal essays dedicated to their respective country. In honor of today's focus on Japanese cuisine, fry up some chicken katsu.

Chicken katsu was developed in Japan in the 20th century with Western Influence in mind. It's almost like a more upscale, Japanese version of chicken nuggets that Americans love, but we use panko to make the dish extra crispy and of course make sure to use good quality chicken so the meat is moist. Katsu was actually first popularized in Japan using beef cutlet, then pork, but we like to use chicken because it's lighter. To complement and enhance the flavor of the chicken, the accompanying julienned carrots, lemon juice and tomato are all very important, giving the dish some acid.
Ingredients
4

(8-ounce)

chicken breasts, skinless and boneless

salt (Okinawan sea salt at Seki), to taste

1

cup

fine Japanese panko bread crumbs

1

egg, beaten

2

tablespoons

flour

1

cup

vegetable oil, for frying
Garnish
cabbage, julienned

fresh tomato, sliced

lemon wedge, to squeeze over cutlet or cabbage as you like
Dipping Sauce
Otafuku brand Tonkatsu sauce, served on the side, to taste
Directions
Season the chicken breasts on both sides with salt.
Place the flour, egg and panko crumbs into separate dishes.
Coat the chicken breasts in flour, shaking off any excess.
Dip them into the egg, and then press into the panko crumbs until well-coated on both sides.
Heat 1/4-inch of oil in a large skillet to 350°F.
Place chicken in the hot oil, and cook 3-4 minutes per side, or until golden-brown.
Chef's notes:
It is important to cook at right temperature (350°F). The katsu's breading will separate from the meat if the temperature is too low and will burn if the temperature is too high.
As you start frying, moisture content from the meat begins to show up as tiny bubbles. The size of bubbles get larger when the meat starts floating in oil.
You should feel a moderate vibration as you pick up the meat with cooking chopsticks. This is a signal that meat is cooked through.
Find more Japanese recipes on Food Republic: