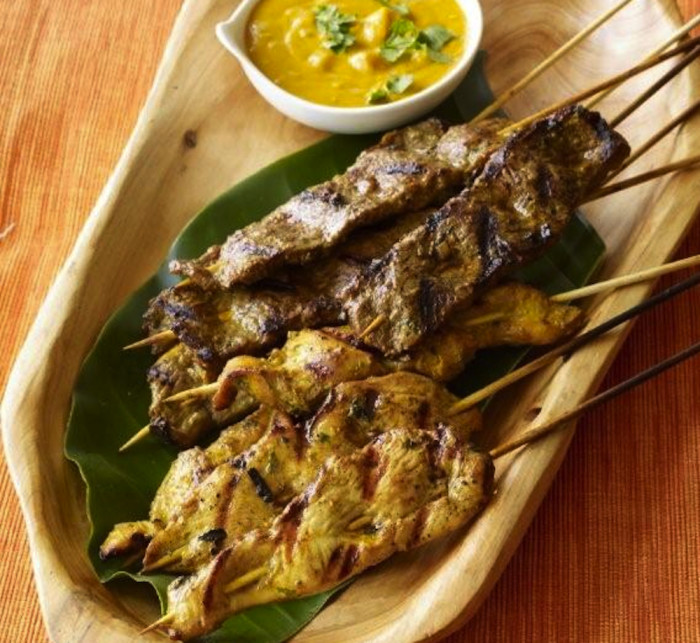 These chicken & beef satays with peanut sauce are some of my favorite bites, but it's the peanut sauce that makes this dish so special. The sauce is based on others I've enjoyed over the years, but couldn't make until kosher-certified coconut milk became available. You'll love the way these satays' lime-brightened zing plays against the smoky meat, itself deeply flavored with garlic, cumin and ginger.
Ingredients
2

lbs

boneless skinless chicken, and/or sirloin, chilled in freezer for two hours

1/4

cup

soy sauce

1/4

cup

canola oil

2

large

shallots, minced

1

tbsp

lime zest

1

tsp

grated ginger

2

garlic cloves

smashed

3

tsp

turmeric

2

tsp

cumin

6

tbsp

cilantro, chopped

24

bamboo skewers, soaked in water for one hour
Peanut sauce
1

10 oz can

coconut milk

1/2

cup

peanut butter, smooth

1/2

cup

chicken stock

1

cup

tomato, skinned, seeded and cut into 1/4-inch dice

1

tbsp

garlic, minced

1/2

tbsp

Harissa

3

tbsp

light brown sugar

1

pinch

kosher salt

2

tbsp

fresh lime juice
Directions
To make satays, using a very sharp carving knife, cut the chicken and/or beef into 1/4-inch-thick slices, 6 inches long by 2 inches wide.
In a medium bowl, combine the soy sauce, oil, shallots, lime zest, ginger, garlic, turmeric, cumin and cilantro.
If using only chicken or beef, transfer the mixture to a gallon-size sealable plastic bag and add the chicken or beef. If using both chicken and beef, divide the marinade between two gallon-size bags and add the chicken to one and the beef to the other. Seal the bag(s) and marinate refrigerated for at least 1 hour or up to a day ahead.
Meanwhile, make the peanut sauce. In a large saucepan, combine the coconut milk, peanut butter and chicken stock and whisk to blend. Cook over medium heat until the mixture simmers, stirring often to prevent scorching, about 5 minutes.
Add the tomato, turmeric, cumin, garlic, curry paste, if using, and sugar and mix well. Simmer until the flavors have blended, about 15 minutes. Season with salt. If the sauce is too thick, add up to a cup of water and blend.
Cover and refrigerate the sauce for up to 2 days, or keep at room temperature if making the satays immediately. Just before serving, reheat and blend in the lime juice and cilantro.
Thread the strips accordion-style onto the skewers, one type of meat for each.
Preheat and outdoor grill or the broiler or heat a grill pan or large heavy skillet over high heat. If using a skillet or grill pan, spray the interior with nonstick cooking spray or spray the outdoor grill rack; if broiling, line a baking sheet with foil and spray.
Broil or grill, turning once, until the meat is just cooked through, 4 to 6 minutes total. Transfer skewers to a warm platter and serve with the sauce.
Reprinted with permission from Kosher Revolution, by Geila Hocherman & Arthur Boehm