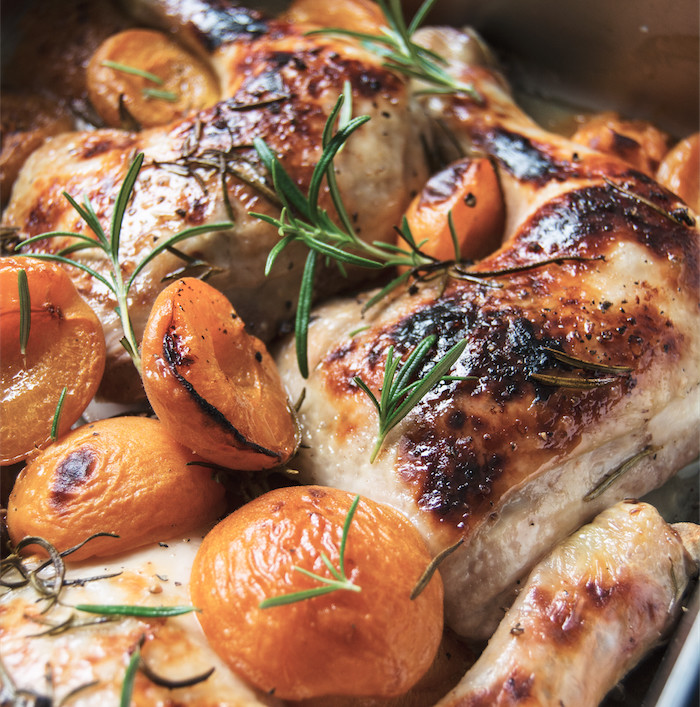 Blogger Meike Peters, of the acclaimed Eat in My Kitchen, has a new cookbook out filled with her favorite recipes. Inspired by European comfort food and Mediterranean classics, this collection of 100 dishes is a must-read for anyone looking for a cooking lesson with inimitable charm. This recipe for chicken with apricots in Riesling is a fast, delicious way to get a beautiful dinner on the table in no time.
If you feel like eating meat but time is tight, throw some chicken thighs in the oven. This is one of the quickest and easiest dishes to please a hungry crowd of family or friends, in which case just double the amounts below. And if there are fewer people at the table, add a little chutney and some arugula leaves to the cold leftovers, and stuff everything into a sandwich.
The chicken can marinate for several hours, which will make this dish even more flavor­ful. In the oven, the succulent meat roasts side by side with sweet, juicy apricots lusciously coated in Riesling and elderflower syrup. You can replace the apricots with other fruit, like peaches, plums, apples or grapes. German Riesling is my favorite wine to use — it suits the acidic aroma of stone fruit perfectly — but feel free to use any fruity white, such as Italian Moscato.
Ingredients
4

bone-in, skin-on chicken thighs

8

ripe apricots, cut in half and pitted

5

tablespoons

elderflower syrup

4

tablespoons

Riesling (or any fruit white wine)

1

tablespoon

olive oil

1/4

teaspoon

black peppercorns, crushed with a mortar and pestle, plus more to taste

flaky sea salt

Needles from 10 medium sprigs fresh rosemary
Directions
For the chicken
Preheat the oven to 425°F.

Cut off any large chunks of fat from the chicken thighs.

Place the chicken and apricots in a baking dish just large enough to fit them in. Whisk together the elderflower syrup, Riesling, and olive oil and pour it over the meat. Sprinkle with the crushed peppercorns. Using your fingers, rub the marinade and crushed peppercorns into the chicken skin until well coated. (If you have the time, cover the chicken and let it marinate in the refrigerator for 30 minutes or longer.) Season to taste with flaky sea salt and sprinkle with ¾ of the rosemary needles.

Bake, spooning the juices from the pan over the chicken every 10 minutes or so, for 25 to 30 minutes or until the juices run clear when you prick the thickest part of a chicken thigh with a skewer.

Turn on the broiler for a few minutes until the chicken skin starts sizzling, but mind that the apricots don't burn. Take the baking dish out of the oven, sprinkle with the remaining rosemary, and season to taste with flaky sea salt and crushed peppercorns.

Serve immediately, with a glass of chilled Riesling, and use cold leftovers for sandwiches the next day.