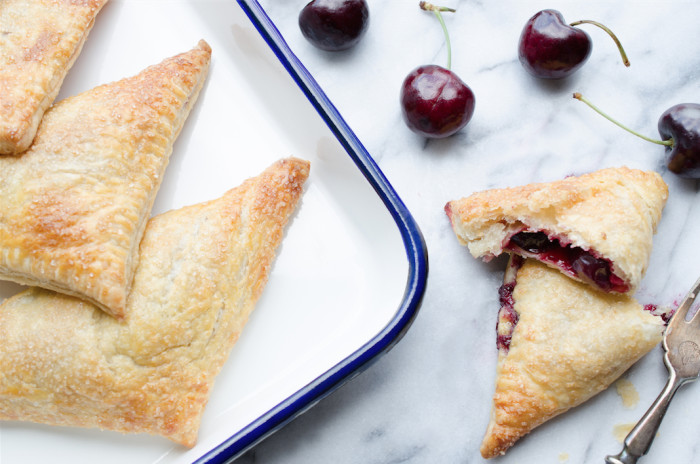 Washington State-based Stemilt Growers have the cherry game locked down tight. All the fruit they produce  is phenomenal, but their world-famous cherries are a rare treat, grown and harvested in Wenatchee as they have been for generations. They loaned us a simple, easy-to-make and thoroughly crowd-pleasing recipe for cherry turnovers that's in peak season right now, so grab some cherries and get baking!
Ingredients
2

cups

dark-sweet cherries, pitted and halved

3

tablespoons

granulated sugar

1

teaspoon

fresh lemon juice

1/2

teaspoon

ground cinnamon

1

tablespoon

cornstarch

1

pound

purchased puff pastry dough, thawed

All-purpose flour for rolling

1

egg yolk mixed with 1/2 teaspoon water

turbinado sugar
Directions
For the turnovers
In a medium saucepan, bring the cherries, sugar, lemon juice, cinnamon and cornstarch to a boil over medium-high heat. Continue to boil for 1 to 2 minutes.

Remove from heat and allow to cool to room temperature. Refrigerate to cool completely.

On a heavily floured surface, roll out the puff pastry into a 15 inch square. Using a pastry wheel, pizza cutter or very sharp knife, cut the square into 9 five inch squares.

Place about 2 tablespoons of the cooled filling just off center of each square. Fold the squares over corner-to-corner to form a triangle. Seal the edges by pressing around the turnover with a fork. Carefully place each turnover on to a parchment lined baking sheet. Refrigerate for 30 minutes.

Preheat your oven to 375.

Brush the tops of each turnover with the egg wash and sprinkle with a bit of turbinado sugar. Bake the turnovers for 20 to 25 minutes or until they are puffed and golden.

Remove and cool on a wire rack for at least 15 minutes. Serve warm.