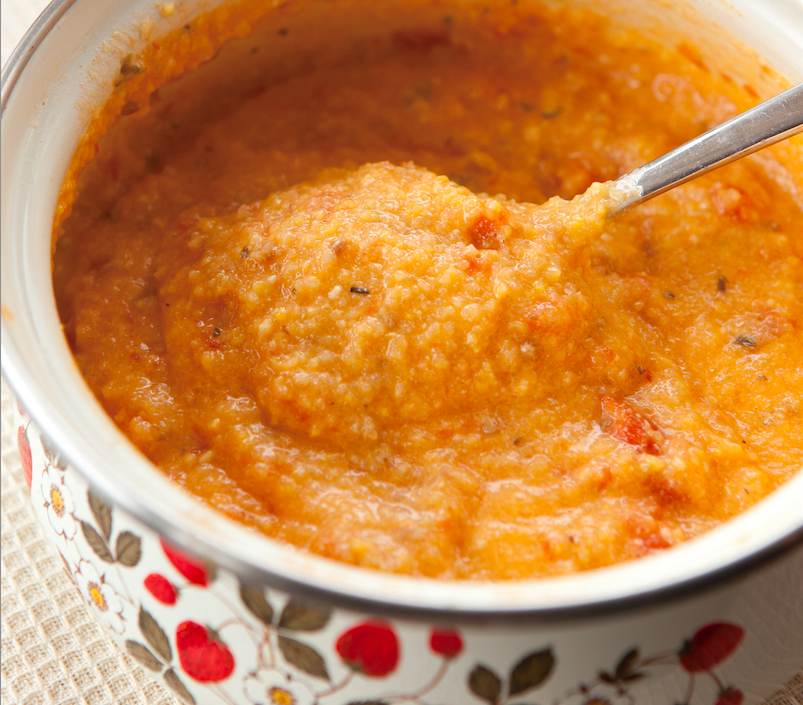 From our dude Nick Evans at Macheesmo comes Love Your Leftovers, an essential tome of what to do with the leftovers in your fridge. Brunch is a particularly useful meal when it comes to repurposing extra food, and these cheesy tomato grits are a great way to kick off your weekend. Make too much tomato sauce? Infuse cheesy grits for a flavor-packed brunch dish just begging for a poached egg.
If you're in Florence, it's called polenta. If you're in Alabama, it's called grits. In reality, they are basically the same thing — that is to say, ground-up corn that's been slowly simmered. Corn and tomatoes pair well together, so simmering the grits in a diluted marinara sauce is a great way to give them some serious flavor. It's hard for me to recommend grits without cheese, so throw some of that in also!
Ingredients
2

cups

water

1

cup

milk

2

tablespoons

unsalted butter

1

cup

marinara sauce

1

cup

coarse grits

Salt and pepper

1

cup

cheddar cheese, grated
Directions
Add water, milk, butter and marinara to a large pot over medium heat. Bring to a simmer.
Once liquid is simmering, whisk in grits in a slow stream. Whisk constantly to make sure the grits don't clump together.
Whisk mixture constantly over low heat until it thickens substantially. It should take 15 to 20 minutes to thicken.
Season the grits with salt and pepper and stir in the grated cheese. Continue to stir until cheese is melted.
Serve immediately.
Polenta Squares:
To keep things clear-cut, I like to call the liquid version of this dish grits and the solidified version polenta. So if you have leftover grits, you can easily make polenta.
Pour the warm leftover grits out onto a baking sheet lined with parchment paper.
Let them sit at room temperature until cool, and they will harden into a single block.
Cut the block into squares and store them in the fridge until needed.
When you want to serve the polenta, reheat by frying it in a bit of butter until the outside is crispy and slightly browned.
Find more cheesy grits on Food Republic: