Cheesemonger Four-Cheese Nachos Recipe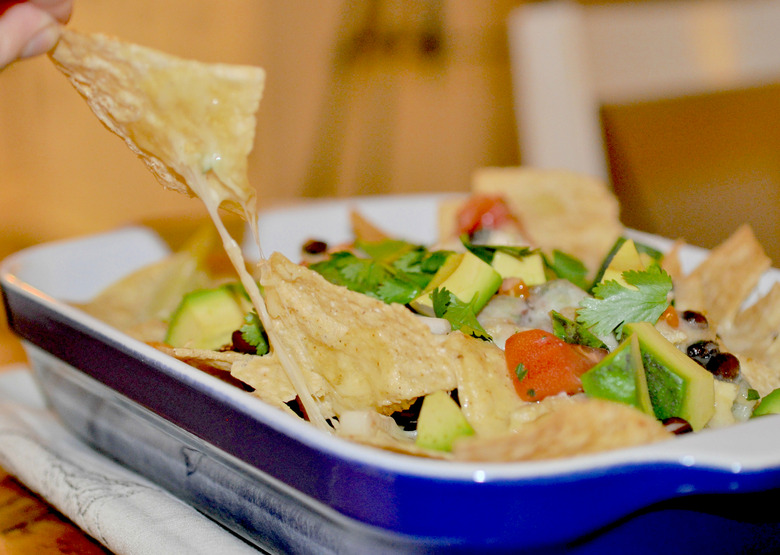 Pinky up! These nachos call for your fanciest cheeses. (Photo: Francoise Villeneuve.
When I was working as a cheesemonger, I used to make this four-cheese nachos dish at the end of the day with odds and ends from the case. Experiment with different cheeses and have fun — but try and avoid blue and goat cheese. This is a great snack for movie night, and a good use for those cheeses that have been knocking around in your fridge for a few days.
Cheesemonger Four-Cheese Nachos Recipe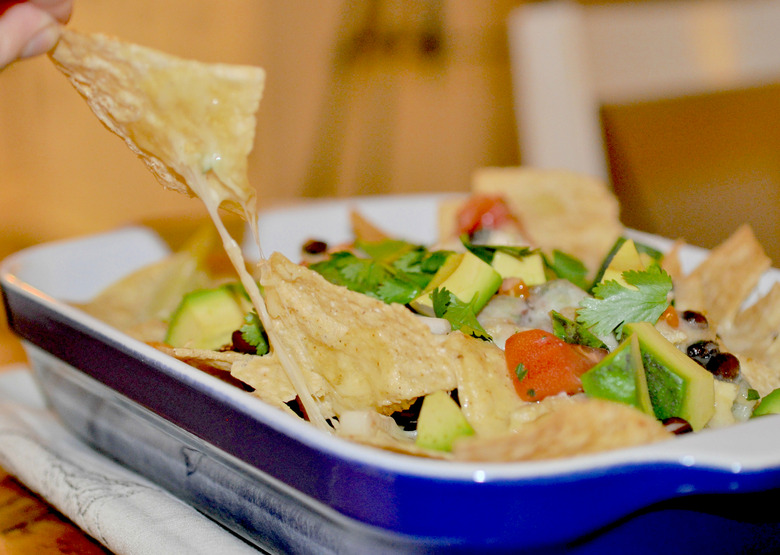 Ingredients
1 ripe beefsteak tomato
1/2 white onion
1 jalapeño chili
1/2 can black beans
1 large bag tortilla chips
1/4 pound grana padano or other hard grating cheese
1/3 pound raw cheddar cheese
1/3 pound Swiss cheese such as Gruyère or Emmenthaler
1/4 pound triple cream soft-ripened cow's milk cheese
1 bunch cilantro
1/2 avocado
2 lime wedges
Directions
In a medium mixing bowl, combine the tomato, onion, jalapeño and black beans and mix thoroughly. Drain the mixture thoroughly to get rid of any excess moisture or your chips will be soggy.
Grate the Grana Padano, cheddar and Swiss using a microplane and mix them together. Break the triple cream apart using your fingers or a spoon into roughly teaspoon-sized blobs. Add to the cheese mixture.
Wash and pat dry the cilantro. Remove the leaves from the stems, then roughly chop the rest of the cilantro leaves. Add the cilantro to the tomato mixture.
Preheat the broiler to high (or 500˚F if you're able to set the temperature on your broiler).
Line the bottom of an 8 x 11'' baking dish with a layer of tortilla chips. Line a baking sheet with a silicone baking mat or aluminum foil and add a layer of tortilla chips to that. Add a third of the tomato mixture to the baking sheet and a third to the baking dish. Add half of the cheese mixture to each.
Put the baking dish under the broiler until the cheese is bubbling and starting to turn golden brown; watch carefully as it broils, since the uncovered chips can burn easily. Remove from the oven and put the baking sheet under the broiler until the cheese is bubbling and starting to turn golden brown, then remove from oven.
Chop the avocado now. Top the nachos from the baking dish with the nachos from the baking sheet, using a spatula to help you.
Top the finished nachos with the remaining tomato mixture and avocado. Garnish with cilantro leaves and serve with lime wedges.
Sunny-Side Nachos
Fried Calamari Nachos
BBQ Pulled Pork Nachos