Cheese-Stuffed Meatballs Recipe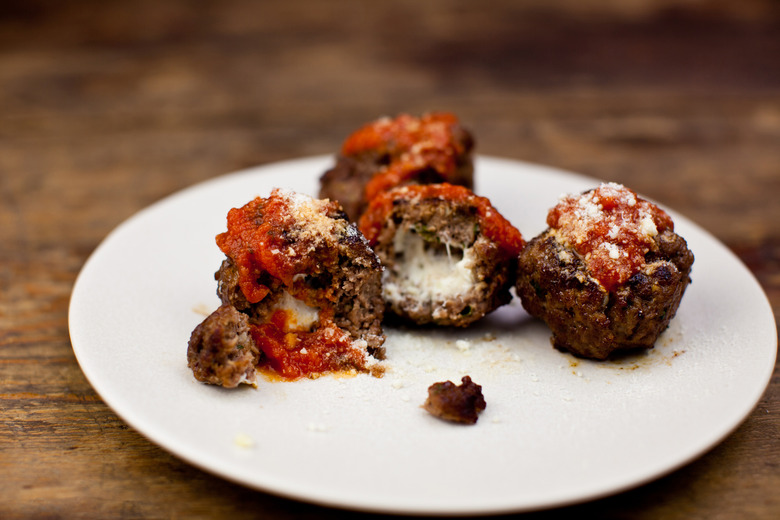 Photo: Mark Shaw
As I was frying these cheese stuffed meatballs in the Food Republic Test Kitchen, I yelled over to our photographer Mark, "Okay we've got time-sensitive balls coming up in 3 minutes!" He looked at me, puzzled. "Because of the oozy cheese," I eloquently clarified, "We want to get a shot of the cheese melting out." "Ah, gotcha," he said.
I love the look of surprise on my friends' faces when they cut into one of these gems and a lava floe of mozzarella ensues. These meatballs are fantastic doused in tomato sauce atop the pasta of your choice, but where they really shine is in a meatball sub. Isn't that a beautiful thought?
Cheese-Stuffed Meatballs Recipe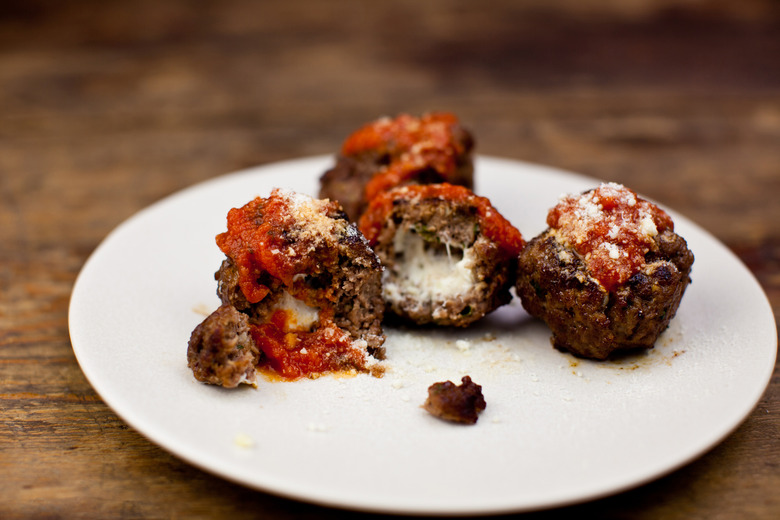 Ingredients
1 pound ground beef
1/2 white onion finely chopped
1 clove garlic
2 tablespoons Italian parsley
1 egg
1/2 teaspoon kosher salt
1/2 teaspoon freshly ground black pepper
1/2 cup breadcrumbs
1/2 pound mozzarella
1 tablespoon olive oil
Directions
In a large bowl, combine ground beef, onions, garlic, parsley, egg, salt, pepper and breadcrumbs (don't overmix or they'll be rock-solid).
Divide mixture into 8 balls.
Semi-flatten each ball, add a cube of mozzarella to the center and sculpt the meat mixture around it to form a seal.
Heat olive oil in a large, heavy pan and fry meatballs on each side (we know they're balls, find sides) for 3-5 minutes, or until browned.
Serve while piping hot for best cheese effect.