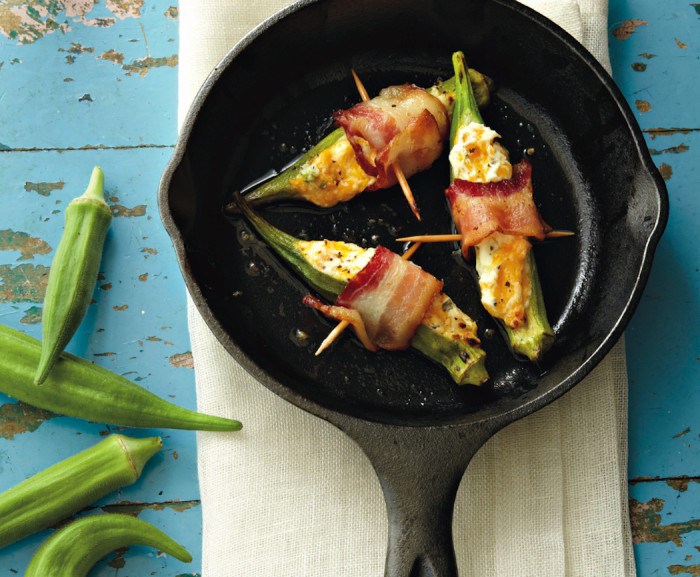 Ah, the Southern life. Whenever we feel the need for ultimate comfort recipes we turn to Southern Living magazine's new Feel Good Food cookbook. These cheese-stuffed bacon-wrapped okra poppers sure sound like they'll make us feel good. Chiefly, we like the part where we don't have to hollow out, stuff and deep-fry 30 jalapeños.
Ingredients
16

slices

bacon

1

pound

okra

1

8-ounce container

chive cream cheese, softened

1/2

cup

extra-sharp cheddar cheese, shredded

1/4

cup

green onions, chopped

1/4

teaspoon

kosher salt

1/4

teaspoon

freshly ground pepper

vegetable cooking spray
Directions
Preheat oven to 425° with oven rack 6 inches from heat. Cook bacon, in 2 batches, in a large skillet over medium-high heat 1 to 2 minutes on each side or just until bacon begins to curl; remove bacon, and drain on paper towels.
Cut each slice in half crosswise. Discard drippings.
Cut each okra pod lengthwise down 1 side, leaving stem and other side of pod intact; remove seeds and membranes.
Stir together cream cheese and next 4 ingredients in a small bowl. Carefully pipe/spoon cheese mixture into cavity of each okra pod.
Wrap each stuffed okra pod with 1 bacon piece, and secure with a wooden pick.
Place half of okra, cheese side up, on a foil-lined baking sheet coated with cooking spray. Bake at 425° for 8 minutes or until okra is tender and bacon is crisp.
Transfer to a serving platter; keep warm. Repeat procedure with remaining half of okra. Serve warm.
More cheese-stuffed goodness on Food Republic: