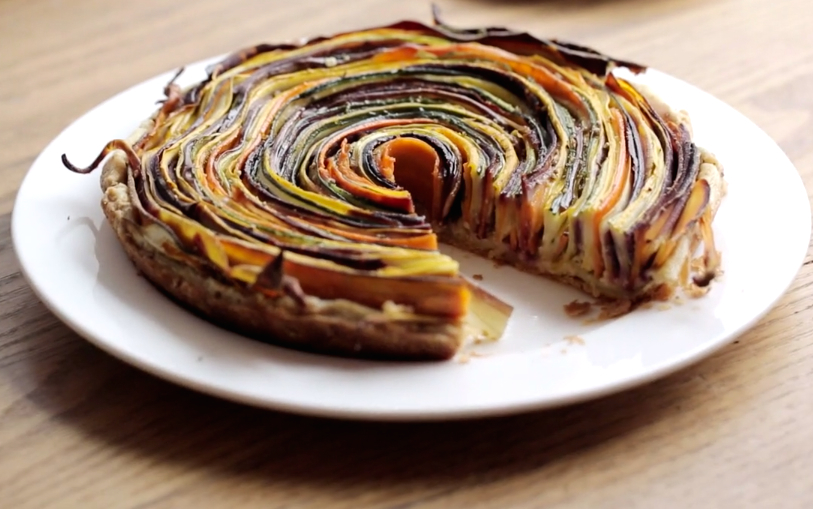 This vegetable tart uses seasonal vegetables to create a beautiful spiral pattern. The dish is much easier to make than it appears and is sure to be a hit at your next dinner party. The crème fraîche and Dijon add a subtle creaminess to the base of the tart without overpowering the veggies. Be sure to be bake till the crust is a nice, deep golden brown.
Learn the technique in the tantalizing video below.
From Food Republic on Vimeo.
Ingredients
2

tablespoons

Dijon mustard

1/2

cup

creme fraiche

2

large

fresh sage leaves, chiffonaded (thinly sliced)

2

zucchinis

1

squash

5

heirloom carrots (different colors if you can find them)

1

eggplant

drizzle of

olive oil

Salt and pepper
Directions
Preheat oven to 375 F. Place the pastry in a pie pan and prick several times with a fork.
Spread the mustard and crème fraîche over the bottom of pie, then sprinkle with sage.
Wash the carrots, eggplant and zucchini and cut in lengthwise strips using a peeler. Cut so as to have always show a small strip of skin for decorative purposes.
Roll a strip of zucchini into a spiral and place in the center of the dish (with the skin of the vegetable up), then surround it with a few strips of carrots and eggplant until reaching the ends of the dish.
Drizzle olive oil over all. Season with salt and pepper.
Bake in a preheated oven for 40 minutes of cooking.
This post is brought to you by our friends at Pure Leaf