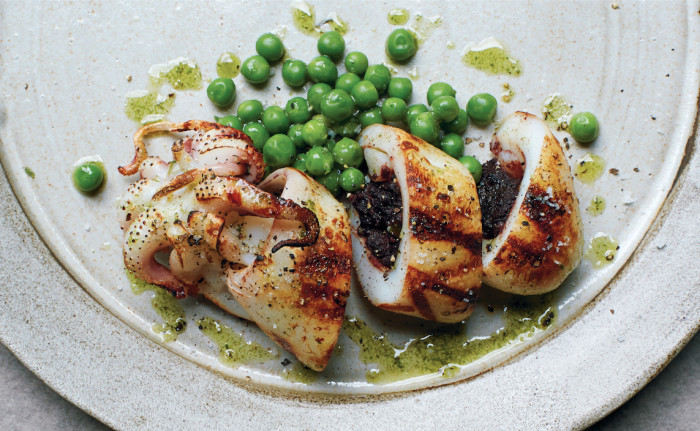 There is a movement afoot in some of the best Paris restaurants. A bistro is defined by a tiny kitchen and dining room, a menu based on what's available, appealing and inventive to the chef and an all-around intimate culinary experience that will leave you sated and inspired. Food writer, editor and instructor Jane Sigal's Bistronomy, a collection of her favorite bistro recipes, is a must-buy for any French-food fanatic. Try your hand at these recipes that are at once trendy and classic, and maybe plan a trip to Paris while you're at it! 
I am in love with Shaun Kelly's use of color on the plate and unbelievably fresh ingredients. Here, the chef spoons black sausage into white pockets of squid, then flash-grills them and serves tiny garden peas and a house-made herb oil alongside — the herbs simply blitzed with oil and strained. His use of boudin noir is clever: The sausage is creamy, flavorful, and sold precooked (no last-minute sautéing necessary) — a perfect ready-made filling.
Make Ahead: The herb oil can be refrigerated for up to 3 days.
Variation: Instead of blood sausage, try stuffing the squid with fresh Mexican chorizo. Remove the sausage casing, crumble the meat, and sauté it in olive oil until browned and cooked through.
Ingredients
1/2

cup

packed parsley leaves

1/2

cup

packed mint leaves

1/4

cup

grape-seed oil

fine sea salt and freshly ground pepper

8

ounces

French boudin noir or morcilla sausage (blood sausage), casing removed, at room temperature

1

pound

small cleaned squid with tentacles

1

pound

green peas in the pod, shelled

1

tablespoon

fresh lemon juice

1

tablespoon

extra-virgin olive oil, plus more for brushing

fleur de sel
Directions
For the squid
In a food processor, puree the parsley with the mint and grape-seed oil until very smooth. Pour into a mesh coffee filter or a fine sieve set over a small bowl and strain the oil, pressing on the herbs with the back of a spoon. (Discard the herbs.) Season with salt and pepper.

In a medium bowl, beat the boudin noir with a wooden spoon until smooth. Using a small spoon, very loosely stuff the squid bodies with the boudin. Using toothpicks, attach the tentacles to the bodies, sealing in the boudin.

In a steamer, cook the peas, covered, until barely tender, 1 to 3 minutes. Transfer to a small bowl and toss with the lemon juice and olive oil. Season with salt and pepper.

Meanwhile, heat a grill or a grill pan. Brush the squid with olive oil and season with salt and pepper. Grill over high heat until they are lightly charred, about 30 seconds per side. Remove the toothpicks and transfer the squid to plates; sprinkle with fleur de sel. Spoon the peas alongside, drizzle the herb oil around the plate, and serve.