Charleston Okra Soup Recipe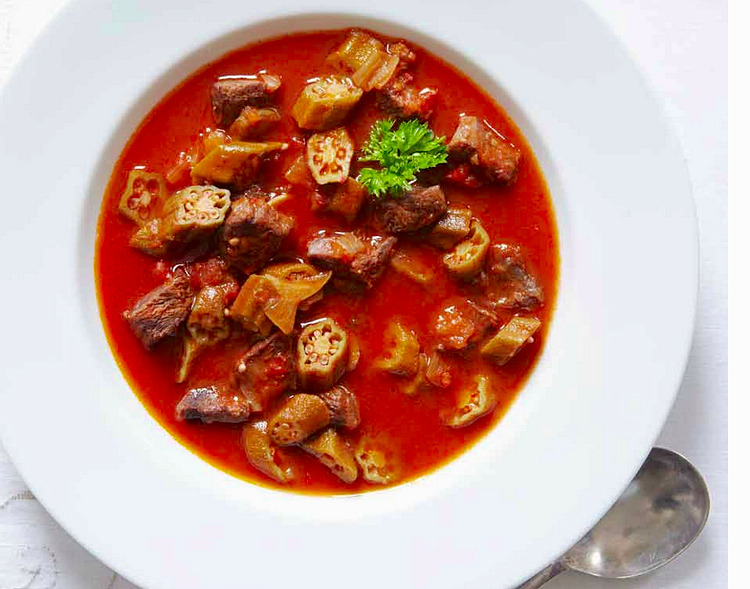 Photo: Squire Fox
We may receive a commission on purchases made from links.
Matt and Ted Lee, James Beard Award-winning chefs from South Carolina, recently released The Lee Bros. Charleston Kitchen (high up on our list of spring cookbooks to look out for). Inside is a wealth of classic homestyle and elevated Southern food we couldn't wait to sink our teeth into. First up, a Lowcountry staple: beefy okra soup.
Okra soup is resolutely old school. It shows up on the menus in the tea rooms that open every spring in church parish halls in the Lowcountry, and is often paired with a pimento cheese sandwich. It's a deeply flavored, tomato-based, meaty soup that always has as its foundation a delicious beef bone. Pork, although much beloved in Charleston, is rarely found in conjunction with okra; this preference for beef with okra is seldom articulated, yet innate to the culture, etched into the kitchen practice of Charleston home cooks over the last couple of centuries.
We've asked hundreds of cooks about this pairing, but no one can explain why it is so. Our best hunch is it's aesthetic — simply that the flavors pair well together. In our version of this soup, we use a sliced beef shank, so that every portion has a few morsels of meat in it. Choose a shank with a generous plug of marrow, which dissolves into the soup, giving it an even more silky texture and beefy flavor.
Reprinted with permission from The Lee Bros. Charleston Kitchen
Charleston Okra Soup Recipe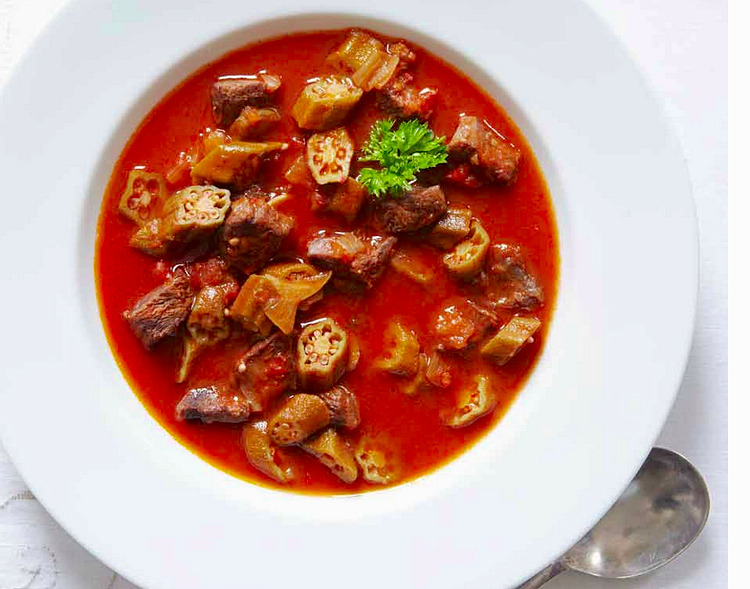 Ingredients
1 1/2 pounds beef shank
Kosher salt and freshly ground black pepper
1 tablespoon canola oil
2 cups chopped yellow onion (about 2 medium)
3 bay leaves
1/2 teaspoon red pepper flakes
1/4 teaspoon smoked paprika
1 (28-ounce) can crushed tomatoes
1 pound okra
fresh parsley
Directions
Season the beef and marrow bone with 3/4 teaspoon salt and 1/2 teaspoon black pepper. Put in a shallow dish, covered, and bring to room temperature, about 1 hour. Pat the pieces dry with a paper towel.
Pour the oil into a large Dutch oven or heavy-bottomed pot over medium-high heat, and when it shimmers, brown the beef and marrow bone in batches, if necessary, taking care not to crowd the pan and adding oil by teaspoonfuls if the pan becomes too dry.
With a slotted spoon, transfer the browned beef and bone to a bowl and turn the heat to medium. Add the onion, bay leaves, red pepper flakes, paprika and 1 1/4 teaspoons salt. Cook, scraping up any browned bits on the bottom of the pan and adding a teaspoon of water or oil if the pan becomes dry, until the onion softens, about 6 minutes; you don't want the onion itself to char.
Add 1 quart of water and the tomatoes, return the beef and marrow bone to the pan and cover. When the soup simmers gently, uncover and reduce the heat to low. Let cook, stirring occasionally, until the meat is just tender, about 1 hour. Add the okra and continue cooking until the okra is just tender, about 25 minutes.
Discard the bay leaves and season to taste with salt and freshly ground black pepper. Divide among bowls, garnish with parsley, if desired, and serve.
Classic Turtle Soup Recipe
Norman Van Aken's Souse Recipe
Mama's Seafood Gumbo Recipe