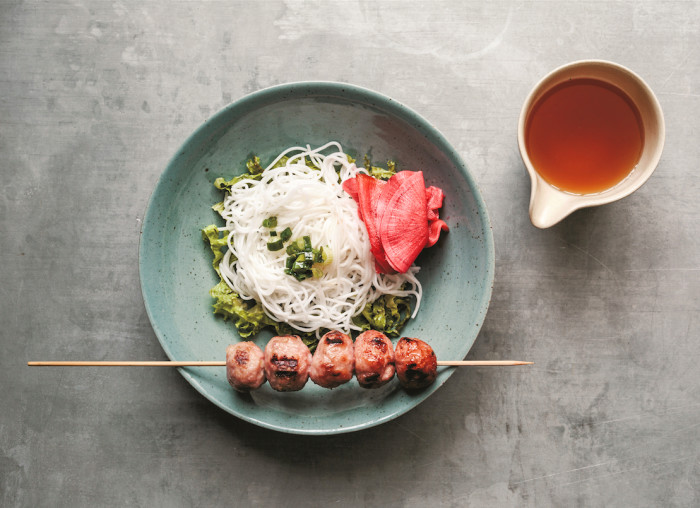 Charles Phan, chef-owner of San Francisco's pioneering the Slanted Door, was boiling up bowls of Vietnamese noodle soup long before most Americans had ever heard of pho — or knew how to pronounce it properly. That is to say, way before it was cool. In his second cookbook, a tribute to the chef's modern restaurant in the Ferry Building, he details the stories behind his favorite dishes.  
Like the Vietnamese sausage, these meatballs are multipurpose. You can serve them as is, with rice, or as a sandwich filling. I particularly like the meatballs alongside a plate of fresh vermicelli noodles drizzled with scallion oil and served with torn lettuce, cucumber, and flavored fish sauce for dipping. Pickled radish is also a nice addition.
Ingredients
1/2

teaspoon

baking powder

1/2

tablespoon

water

1

pound

ground pork belly

1/8

cup

pork back fat, diced

1/2

tablespoon

fish sauce

1/2

tablespoon

sugar

1/2

teaspoon

ground white pepper

1/4

teaspoon

pink curing salt

1/4

teaspoon

kosher salt

1

tablespoon

green onions, minced (white parts only)

1

tablespoon

shallots, minced

1/2

tablespoon

garlic, minced
Directions
Prepare a charcoal or gas grill for grilling over medium heat.
In a small pot, bring 2 cups of water to a boil over medium-high heat. Add the pork back fat and cook for about 10 minutes, until the fat is cooked through.
Mix together the baking powder and water. In the bowl of a food processor, combine the pork belly, pork fat, fish sauce, sugar, baking powder mixture, white pepper, curing salt, and kosher salt. Blend until the mixture turns into a stiff paste that is sticky and springs back to the touch, about 2 to 3 minutes. Add the green onions, shallots, and garlic and give it a few more pulses.
Transfer the paste to a large bowl. Coat your palms lightly with canola oil to prevent sticking. Scoop up the paste and shape it into balls approximately 1 inch in diameter. Set the balls on a platter and continue until all of the paste has been used up. This should make 25-30 meatballs.
Grill the meatballs until they are cooked through and feel firm to the touch, about 8 to 9 minutes. Serve warm.
More Vietnamese inspiration from Food Republic: