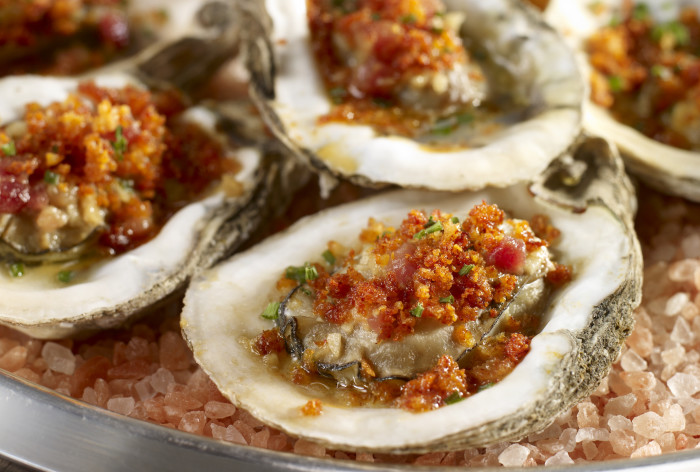 Gulf Coast Seafood has been providing fishermen, grocers, chefs and foodies with an economic engine that powers the entire region. The Gulf Coast produces 70 percent of the nation's oysters. Thanks to the Louisiana Seafood Promotion and Marketing Board for this awesome grilled oyster recipe, perfect for summer barbecues or beach grill-outs. Don't worry, there's bacon in there, too.
Ingredients
24

Gulf oysters, cleaned and shucked

1/2

pound

unsalted butter, divided

1/2

cup

applewood smoked bacon, thick cut, small dice

1

tablespoon

oil-packed anchovy fillets, mashed to paste

2

tablespoons

garlic, minced

1/4

cup

bourbon

1

tablespoon

Tabasco

3

tablespoons

lemon juice, divided

3/4

cup

panko bread crumbs

1/4

cup

Parmesan cheese, grated

1

tablespoon

smoked paprika
Directions
For the oysters
Prepare and light charcoal grill or preheat gas grill.

Combine 1½ pounds butter, bacon, anchovy fillets, garlic, bourbon, Tabasco and 6 tablespoons lemon juice in medium saucepan. Bring to simmer and cook slowly for 30 minutes. Remove from heat and reserve.

Clean outside of oysters to remove any loose debris. Shuck oysters. Strain oyster liquid into container and add shucked oysters. Reserve bottom half of shell and discard top half.

Melt remaining ¼ butter in sauté pan. Add bread crumbs and cook while stirring constantly until slightly browned. Remove from heat and reserve.

Place bottom half of shells on grill. Add small amount of bacon-anchovy butter sauce to each shell. Allow shells and sauce to heat up. Spoon one oyster into each shell and top with more sauce and a little oyster liquid. Cook until edges of oyster begin to curl up. Sprinkle with bread crumbs, Parmesan and smoked paprika. Continue to cook until bread crumbs brown slightly and oysters are cooked, but not overcooked.

To finish, drizzle each oyster with some of the remaining 3 tablespoons fresh lemon juice.