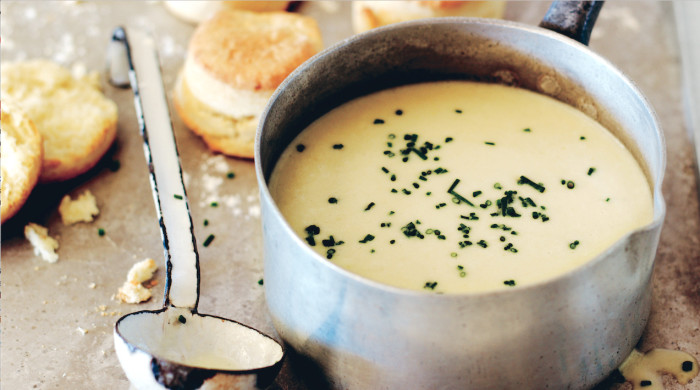 Farmhouse cooking is an age-old craft that few get to enjoy these days. The beauty of utilizing a few simple ingredients at the absolute peak of freshness and seasonality is front and center in farmer and cook Sarah Mayor's new cookbook. Follow her around the farm and see what's happening in the kitchen.
It's recipes like this that make us rejoice in finding a few spare lumps of Stilton at the back of the refrigerator. Within a few minutes you can have a rich and creamy soup on the table. If you're not in the mood for making the scones, crusty bread never disappoints.
Ingredients
3

tablespoons

butter

1

large onion, chopped

10 1/2

ounces

celery stalks, thinly sliced

2

tablespoons

all-purpose flour

3

cups

good chicken broth

4 1/2

ounces

derinded creamy blue cheese, such as Colston Bassett stilton, crumbled

1/3

cup

light cream

Chopped chives to garnish

Salt and freshly ground black pepper
For the potato scones
3 1/2

ounces

mealy potatoes, peeled and cut into chunks

1 1/2

cups

all-purpose flour, plus extra for rolling out

1

tablespoon

baking powder

3 1/2

tablespoons

chilled butter, cut into pieces

1/4

cup

whole milk
Directions
For the soup and scones
Melt the butter in a large pan, add the onion and celery, cover, and cook over low heat for 20 minutes until really soft but not colored. Stir in the flour and cook gently for 1 minute, then gradually stir in the stock and bring to a boil. Cover and let simmer for 20 minutes.

Meanwhile, make the scones. Preheat the oven to 425°F (220°C). Tip the potatoes into a pan of well-salted water, bring to a boil, and simmer for 15 minutes or until tender. Drain and leave for the steam to die down, then mash and let cool.

Sift the flour, baking powder, and a large pinch of salt into a food processor, add the butter, and whiz until it resembles bread crumbs. Add the potatoes and whiz together briefly, then tip into a mixing bowl and stir in the milk to form a soft dough. Turn the dough out onto a floured counter and knead very lightly into a ball, then roll out to a thickness of ¾ inches (2 centimeters) and cut into 2½-inch (6-centimeter) circles, rekneading and rolling out the trimmings to make 6 small scones. Pop them, slightly apart, on a lightly floured baking sheet and bake for about 10 minutes until risen and golden brown.

Let the soup cool for a few minutes, then blend in batches until smooth. Strain the soup, pour about 2 cups [500 milliliters] into the blender, add the cheese, and blend until smooth again. Stir back into the remaining soup with the cream and some seasoning and reheat gently. Ladle into warmed bowls, garnish with chopped chives, and serve with the hot buttered scones.