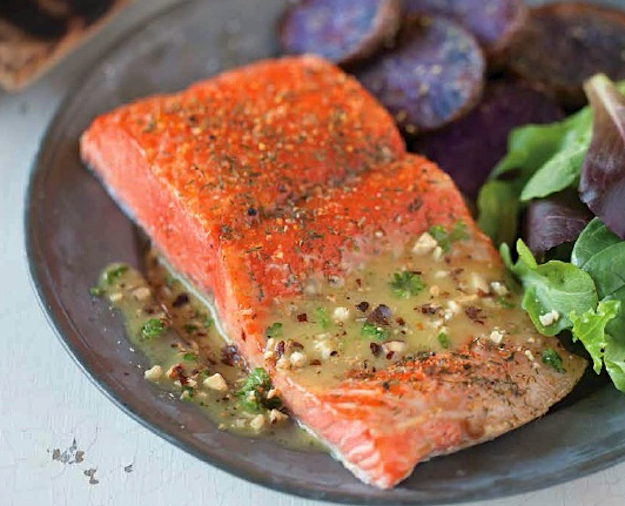 Ivar's is a longstanding and iconic restaurant in Seattle, which is why we're so glad to be working through the spectacular fish recipes in the new Ivar's Seafood Cookbook. Complete with 75 years of historic food memories, this is one book from the sea you don't want to miss. Next up, cedar-planked salmon with a tangy vinaigrette.
For centuries, natives of the Pacific Northwest roasted salmon on planks carved from the same cedars that provided material for their canoes, houses, and clothes. Before modern cooking techniques, the plank served as both cooking vessel and dinner plate. What our modern dining habits can't replace is the sweet, smoky flavor that cooking on a cedar plank provides — which is why Ivar's Salmon House still roasts salmon over an alder grill in the middle of the restaurant all the time.
Ingredients
For the vinaigrette
2

tablespoons

white wine vinegar

1

tablespoon

shallots, minced

1 1/2

teaspoons

Dijon mustard

1 1/2

teaspoons

honey

1/2

teaspoon

freshly squeezed lemon juice

1/3

cup

hazelnut oil

1/4

cup

canola or other vegetable oil

1

tablespoon

hazelnuts, finely chopped

1

tablespoon

flat-leaf parsley, chopped

Kosher salt and freshly ground black pepper
For the salmon
1

2-pound sockeye salmon fillet

skin-on

1/2

tablespoons

extra virgin olive oil

1/2

teaspoons

fish seasoning or rub
Directions
Soak the grilling plank in water to cover for 2 hours, keeping it immersed. (Setting a can of beans on the plank works well.) Next, preheat a gas grill to medium-low heat.
To make the vinaigrette, in a food processor or blender, whirl the vinegar, shallots, mustard, honey, and lemon juice until smooth. With the motor running, slowly add the oils, processing until well combined, then transfer the mixture to a small bowl. Whisk in the hazelnuts and parsley and salt and pepper to taste.
Brush the salmon with the oil and sprinkle with the seasoning. Place the fillet on the plank, skin side down, and put the plank in the center of the grill. Cover and cook on the grill until just cooked through, with the lid closed, about 10 to 15 minutes, or until the internal temperature reads 135 degrees F on an instant-read thermometer. Serve right on the plank, with the vinaigrette drizzled on top.
More salmon recipes on Food Republic: