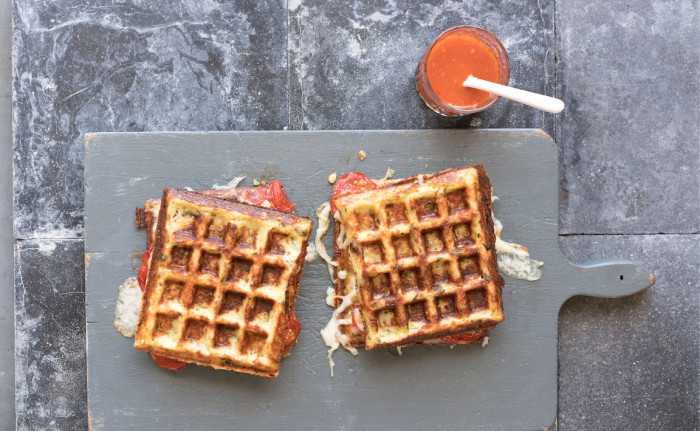 Any time we see a cookbook devoted to the fine art of grilled cheese, we get very excited. British author Fern Green takes a deep-dive into one of the most sought-after comfort foods we've ever known, with variations from vegetarian and fruit-adorned to the wonderfully meaty and everything in between. These cheesy cauliflower waffles are some next-level brunch fare.
This takes the toasted sandwich to another level. Made without any bread, these crispy waffles with oozy cheese are a perfect gluten-free option, but everyone must try them at least once!
Ingredients
9

ounces

cauliflower, grated

1

cup

grated firm mozzarella

1 3/4

cup

grated mature Cheddar

1 2/3

cup

grated Parmesan

2

large eggs

1

spring onion, finely chopped

1

teaspoon

Dijon mustard

2

tablespoons

chopped chives

2

tablespoons

chopped parsley

2

large tomoatoes, thickly sliced

1

tablespoon

sugar

1

tablespoon

olive oil

sea salt and freshly ground black pepper
Directions
For the sandwich
Put the grated cauliflower into a saucepan with 2 tablespoons of water, bring it to the boil and cook until the water evaporates. The cauliflower pieces should be tender – if they're still firm, add another tablespoon of water and cook this water off too.

Put 3 1∕2 ounces of the mozzarella into the bowl of a food processor, along with the cooked cauliflower, Cheddar, Parmesan, eggs, spring onion, mustard and herbs. Blend until smooth.

Heat up a waffle iron, then spoon in the batter, making sure not to overload it. Cook for about 8 minutes in an electric iron, or around 8 minutes on each side in a stovetop iron, until the waffles are crisp and golden.

Meanwhile, heat the grill (broiler) to a high heat. Lay the tomatoes on a baking sheet, sprinkle them with the sugar, drizzle over the olive oil and season. Grill for 10 minutes or until soft. Transfer the waffles to a plate and put the tomatoes on top of 2 of them. Sprinkle over the rest of the mozzarella and gently press the other waffles down on top. Serve straight away.