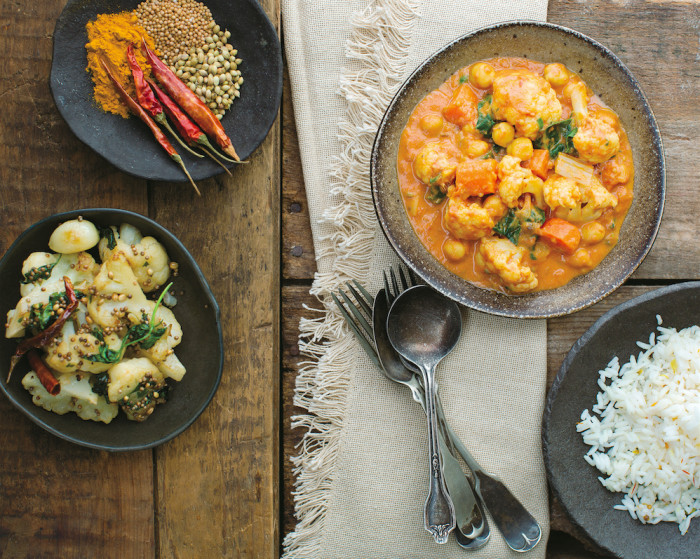 You want good food and you want it fast. You're in luck, because we just picked up a copy of chef and TV personality Jason Roberts's new book, Good Food — Fast! Whether the goodness you crave is gluten-free, vegetarian, vegan, or protein-heavy, if it makes you feel good, there's a recipe for it in here.
The ingredients list for this sumptuous, fragrant curry may look long-winded, but the effort involved pays off with every mouthful of the final product. Not only is this dish low in fat; it's also packed with nutritional goodness and satisfying flavors. It keeps well and tastes even better the day after it is cooked. So it's definitely worth making when you have a bit of extra time so that you can then enjoy quick leftovers throughout the week. (For the meat lovers in your life, you can add 1/2 pound fish or chicken and cook it in the curry.)
Ingredients
1

red onion, peeled and finely diced

1

bunch

fresh cilantro, leaves picked, roots washed and all finely chopped

1

knob

of ginger, peeled and finely chopped

2

tablespoons

olive oil

1

tablespoon

fennel seeds

1

teaspoon

crushed coriander seeds

1

teaspoon

ground coriander seeds

1

teaspoon

ground cumin seeds

1

teaspoon

ground turmeric

1

tablespoon

mustard seeds

1/3

teaspoon

ground chili flakes (if you like your curries hot, add a little more)

2

medium

carrots, peeled and cut into 1/3-inch cubes

3

stalks

celery, cut into 1/3-inch cubes

1

large head

cauliflower, cut into florets

1

(12-ounce) can

light coconut milk

1

(12-ounce) can

crushed tomatoes

3

teaspoons

white wine vinegar

1 1/2

cups

water, divided

1

bunch

chard, washed and shredded

1

(15-ounce) can

chickpeas, well drained

Salt

and freshly ground black pepper to taste

Steamed

rice, for serving
Directions
In a heavy-bottomed saucepan, sauté the onion, cilantro roots (reserve the leaves), and ginger in olive oil over medium heat until the onions are translucent, about 2-3 minutes.
Add all the dry spices and stir until the mixture is fragrant, approximately 1-2 minutes.
Lower the heat and add the carrot, celery and cauliflower, along with the coconut milk, tomatoes, vinegar and 1 cup water.
Simmer for 20-25 minutes, until the vegetables are tender but still have a slight bite to them.
Place the chard into a medium-size saucepan along with the remaining 1/2 cup water and bring it to a boil with the lid on.
Simmer for 2 more minutes, then remove the pan from the heat and let it steam (with the lid on) for another 3 minutes.
Add the chard to the curry along with the chickpeas.
Before serving, throw in a small handful of roughly chopped cilantro leaves.
Adjust the seasoning with a little salt and pepper. Serve with steamed rice.
Find more vegetarian curry recipes on Food Republic: