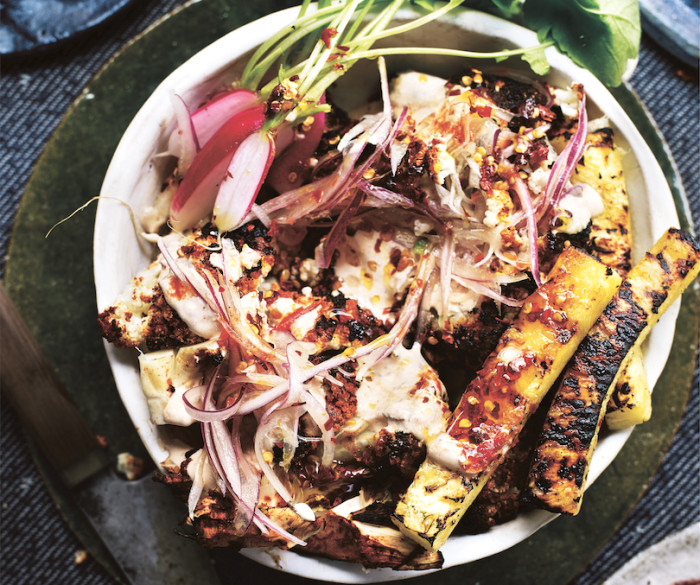 Ever heard the old saying "When in London, eat tacos?" Yeah, we hadn't either until we encountered Breddos Tacos, a Mexican joint in London's Clerkenwell neighborhood that's gotten rave reviews for its fresh tortillas, hot salsas, wood-grilled meats, seamless Asian inflections and vegetarian cauliflower "al pastor". Their eponymous new cookbook is packed with all their hits, so pick up a copy and fire up the grill. 
Crema is a kind of Mexican sour cream/crème fraiche hybrid. It's not difficult to make and the taste is far superior to anything you'll get from normal sour cream or crème fraîche.
Ingredients
1

head

cauliflower, split in half vertically, cored and trimmed at the base, but with some of the root left on to keep the cauliflower florets together

2

teaspoons

ground hibiscus flowers (optional)
Marinade
Scant 1/2

cup

natural yogurt

Scant 1/2

cup

al pastor marinade

1

teaspoon

sea salt

1

teaspoon

crushed black pepper
Habanero Crema
Scant 1

cup

crema or sour cream

2

chipotles in adobo

1

dried habanero chili, soaked in hot water for 30 minutes

1

teaspoon

dried oregano
To Serve
8

corn tortillas

1/2

teaspoon

ancho chili oil, or to taste

Pink pickled onions

4

radishes, halved

1/2

pineapple, sliced into sticks, roasted in a dry frying pan or chargrill pan until blackened
Al Pastor Marinade
2

garlic cloves

1

teaspoon

sea salt

2

tablespoons

achiote paste

1

onion, roughly chopped

1

tablespoon

cider vinegar

1

teaspoon

cumin seeds

3

allspice berries
Homemade Crema (Makes 1 Cup)
Scant 1

cup

organic double (heavy) cream

1 1/2

tablespoons

organic buttermilk
Adobo (Makes 1 Cup)
6

Ancho Chilies, deeseeded and deveined

6

guajillo chilies, deseeded and deveined

1

3-ounce

canned chipotle chilies

4

garlic cloves, roasted

1

cup

cider vinegar

1/2

teaspoon

Mexican oregano

1

teaspoon

black peppercorns

1/2

teaspoon

cumin seeds, toasted

1/2

teaspoon

cloves, toasted

1

1/2-inch

stick cinnamon or 1/2 teaspoon ground cinnamon powder
Ancho Chili OIl
5

garlic cloves

20

Ancho Chilies

4

sprigs

rosemary

2

sprigs

thyme

4

cups

olive oil
Pink Pickled Onions
1

red onion, thinly sliced

2

large habanero chilies, deseeded, veined and thinly sliced

Scant 1/2

cup

freshly squeezed strained lime juice
Directions
For the marinade
Make the marinade by blending all the ingredients together. You may need to scrape down the sides of the jug to ensure everything gets incorporated.
For the crema
Heat the double cream in a pan to 95ºF, take off the heat and pour into a glass jar. Add the buttermilk, place the lid on the jar loosely and store in a jar in a warm place for 24 hours. Then tighten the lid and store in the fridge.
For the adobo
In a non-stick pan over a high flame, toast the ancho and guajillo chillies until they begin to blister, then soak them in warm water for about 25 minutes, until soft and malleable.

Remove the chillies and discard the soaking water. Put the soaked chillies into a blender with the remaining ingredients and purée until smooth. Transfer the mixture to a bowl and stir thoroughly with a rubber spatula. Keep refrigerated.
For the ancho chili oil
Put all the ingredients into a pan and cook over a medium heat until you see bubbles forming. Turn the heat down and continue to cook for a further 20 minutes. Remove from the heat and leave to steep for 2 hours.

Strain the oil through a fine sieve into a bottle, pressing down on all the solids to extract their flavour.
For the onions
Prepare the pickles by macerating the sliced red onion and habanero in the lime juice. Set aside in the fridge.
For the tacos
To make the habanero crema, whiz all of the ingredients together in a blender until you have a smooth sauce.

In a bowl, whisk together the marinade ingredients until thoroughly combined. Rub the marinade mixture into the cauliflower, being sure to completely cover the two halves. Set aside to marinate for 3–4 hours.

Heat your oven to 425ºF. Put the cauliflower halves on a baking tray, cut sides down, and bake in the oven for 1–1 1/2 hours. Take out of the oven, sprinkle the hibiscus powder over the cauliflower and slice into 1 1/2 inch segments.

Warm up your tortillas and place some of the cauliflower segments on each one. Follow with the habanero crema, ancho chilli oil, pink pickled onions, radishes and pineapple sticks.