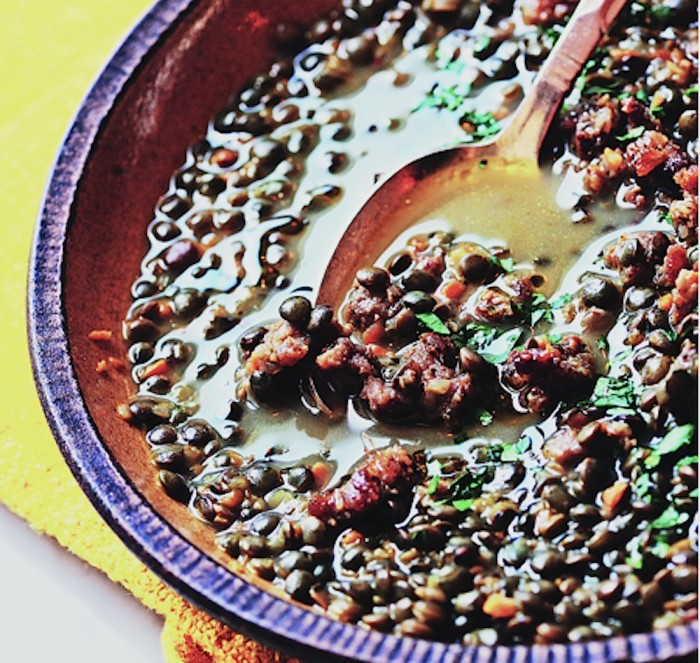 Castelluccio lentils come from the town of the same name in Umbria — actually its full name is Castelluccio di Norcia — in the high plain of the Monti Sibillini, a beautiful and not very traveled area of central Italy. These specialty lentils are very small, pale brownish green in color, with a nutty taste, and they hold their shape when cooked properly.
I first came across these little delights while working at the agriturismo Poggio dei Pettirossi in Bevagna, Umbria. (An agriturismo is a working farm with an inn and/or restaurant that welcomes visitors. This one had a lovely hillside of olive groves. Its name means "hill of the robin redbreasts.") Rendering is a chef's term for cooking a food over relatively high heat so it releases at least some of its fat and becomes brown or crispy. In this recipe, the sausage is rendered in order to lend its flavors to the lentils before all the ingredients are slow-simmered into a soup.
Ingredients
1

medium

carrot, cut into 1-inch pieces

1

medium spanish onion, cut into 1-inch cubes

2

stalks

celery, cut into 1-inch pieces

2

tablespoons

Grapeseed oil

1

pound

Italian sausage, casting removed

2

pounds

Castelluccio lentils

2

springs

fresh sage

8

cups

water

2

tablespoons

kosher salt, plus more to taste

2

teaspoons

, plus more to taste

extra virgin olive oil for garnish, optional
Directions
Place the carrots, onions and celery in the bowl of a food processor with the blade attachment. Process until finely chopped, 2 to 3 minutes.
Place the grapeseed oil in a large 5-quart saucepan over medium heat. Add the chopped vegetables and cook, stirring occasionally, until the onions are translucent, 2 to 3 minutes.
Add the sausage and cook, stirring constantly, until the meat is no longer pink, 3 to 4 minutes.
Add the lentils and sage and cook for 2 to 3 minutes more, stirring constantly, until the lentils are lightly toasted.
Add the water, raise the heat, and bring to a boil for 2 minutes. Lower the heat to maintain a steady simmer and cook for 45 minutes to 1 hour, until the lentils are tender.
Add the salt and pepper and taste for seasoning, adding more if necessary.
Transfer the soup to bowls, garnish each portion with about 1/2 tablespoon extra virgin olive oil, if desired, and serve hot.