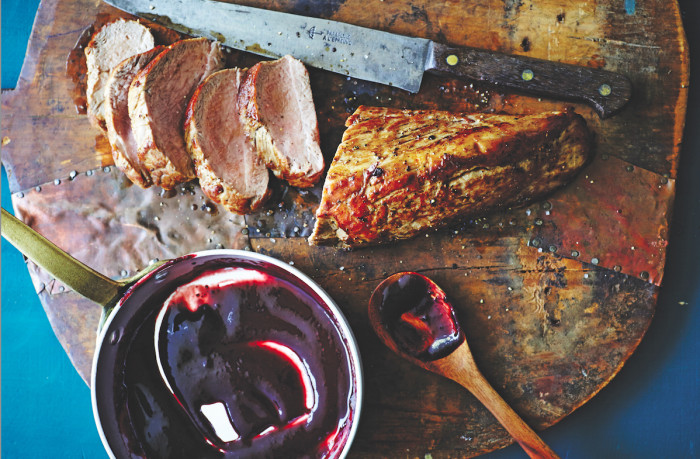 Nashville-based musician and food writer Matt Moore is the quintessential Southern gentleman. His newest cookbook, A Southern Gentleman's Kitchen, is a fresh take on a classic concept. With 150 distinctly Southern recipes from the tried-and-true to the modern, it's a must-have for any gent's (or lady's) culinary library. 
This is one of my go-to dishes whenever blackberries are in season. In college, I spent a summer working at the Georgia Seed Plant with my friends Tom Seward, Josh Counce, and Kirk Alexander. We rogued wheat fields, cleaned combines, and packed up feed and seed for the U.S. Department of Agriculture. It was tough work, but the camaraderie got us through. We also cut the grass, and I volunteered for the front lawn, though it meant more work. I had a little secret: A blackberry bush stood on the east end of the property. With each lap, I'd grab a handful of fresh berries to eat to cool off from the summer heat. This recipe always takes me back to those times, with its sweet, tangy barbecue sauce paired with this juicy, tender pork tenderloin.
Reprinted with permission from Southern Living: A Southern Gentleman's Kitchen
Ingredients
1

tablespoon

extra-virgin olive oil

1

(1 3/4-pound)

pork tenderloin

1

teaspoon

kosher salt

3/4

teaspoon

freshly ground black pepper

1 1/2

cups

fresh blackberries

1/4

cup

molasses

1/4

cup

ketchup

1

tablespoon

plus 1/2 teaspoon whole-grain mustard

1

tablespoon

red wine vinegar

1

tablespoon

Kentucky bourbon

Pinch

of kosher salt

1/2

teaspoon

hot sauce
Directions
For the
Preheat oven to 425°. Drizzle oil over tenderloin and sprinkle with salt and pepper.

Pulse blackberries and next 7 ingredients in a blender or food processor until mixture is fully blended and smooth. Transfer mixture to a small saucepan and cook over medium-low heat, stirring occasionally, 10 minutes or until slightly thickened. Strain out blackberry seeds, if desired.

Meanwhile, place a 12-inch cast-iron skillet over medium-high heat for 1 minute or until hot. Add pork and cook 2 minutes on each side or until browned.

Transfer skillet to oven. Bake pork at 425° for 8-10 minutes or until a meat thermometer inserted into thickest portion registers 145°. Transfer pork to a cutting board and cover loosely with aluminum foil; let stand 5 minutes.

Cut pork diagonally across the grain into ½-inch-thick slices. Serve with warm blackberry sauce.