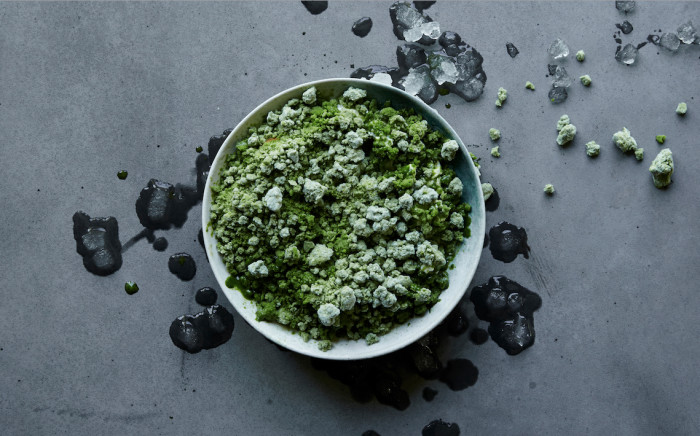 Pick up a copy of Scraps, Wilt & Weeds and you'll never look at vegetable tops, stalks, leaves and other sub-prime bits again. Following in the tradition of world-renowned Danish restaurant Noma, chef Mads Refslund and food writer Tama Matsuoka Wong take an intimate look inside the true potential of underutilized vegetable parts. Choose a recipe, like this carrot top granita, and rekindle your love of fresh produce.
Who says that vegetables have to be savory? I like to use them to make an icy granita to use as a base for dessert, as in pairing with a light yogurt cloud and some sweet and softened fruits. Because the granita method uses vegetables that are chopped, pureed, and then frozen, it is good for rough or tougher textured vegetables. Carrot tops work beautifully, as do beet tops, wheatgrass, and sorrel. In fact, I use this recipe to make a wheatgrass granita for my Fallen Fruit Dessert.
Ingredients
2

cups

sugar

2

cups

water

2

cups

chopped carrot tops (or other vegetable tops)

1

cup

loosely packed chopped fresh parsley, including stems (if you have less or more parsley, it is fine; don't go out and buy and extra bunch if you only have enough for 1/2 cup)

1/4

cup

freshly squeezed lemon juice

3

tablespoons

vodka (optional, to keep the granita from turning to ice if you plan to store it longer than a day)

1

cup

whipped yogurt

10-15

Carrot "Raisins," or other dehydrated fruit
Directions
For the granita
In a medium pot, combine the sugar and water and bring to a boil, stirring until the sugar is dissolved. Add the carrot tops and parsley, reduce the heat to low, and simmer for 3 minutes, until just cooked. Transfer to a blender, add the lemon juice, and blend for a few minutes to a smooth puree.

Transfer to a shallow metal container at least 8 X 8 X 2 inches, add the vodka (if using), and freeze for 3 to 3 ½ hours, scraping periodically with a fork so that the granita is evenly frozen.

To serve, crush any remaining lumps in the granita. Fill each of 4 wide shallow bowls with ¼ cup whipped yogurt and dot the yogurt with the carrot raisins. Top each with 3 heaping tablespoons of the granita.