Carne Asada Steak Tartare And Eggs, À La Richard Blais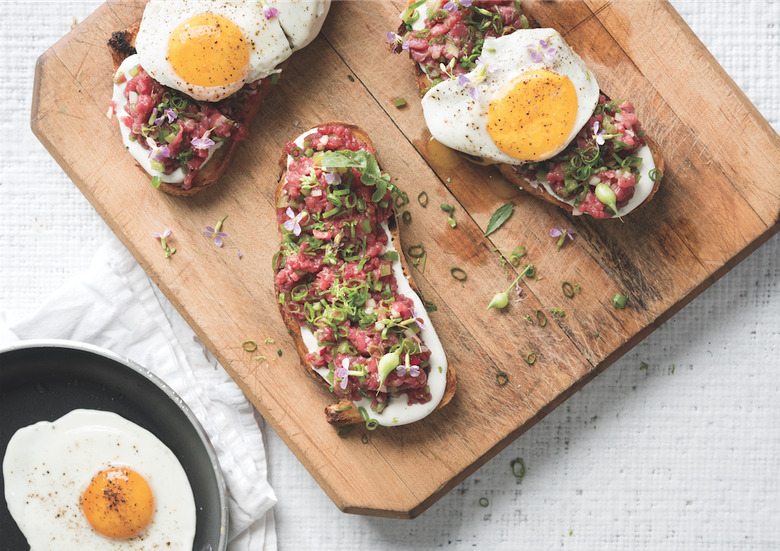 We may receive a commission on purchases made from links.
Nobody pens a cookbook quite like chef Richard Blais, winner of Bravo's Top Chef All-Stars and Top Chef judge. His latest collection of recipes hails from his home kitchen, where he creates the dishes his family and friends have come to love. Read the stories behind these beloved meals, starting with this hearty carne asada steak tartare and eggs.
I've toyed with dozens of versions of beef tartare, a carnal, crave-worthy dish for me. Sometimes I imagine I'm a lion (my spirit animal, naturally) enjoying a fresh kill. This version of tartare, featuring jalapeños and radishes, is a tip of the sombrero to Mexico. The gently fried eggs on top of the tartare make this dish especially luscious — even worthy of a hip restaurant. In fact, I've sold thousands of these at Juniper and Ivy, one of my San Diego restaurants.
Note: Mexican crema is similar to crème fraiche and sour cream, although it's a little thinner than either — plus it's somewhat acidic and a little saltier. If you can't find it in the market, substitute sour cream cut with a little lime juice and seasoned with salt.
Carne Asada Steak Tartare And Eggs, À La Richard Blais
Richard Blais' latest cookbook hails from his home kitchen, where he creates dishes like this carne asada steak tartare with fried eggs.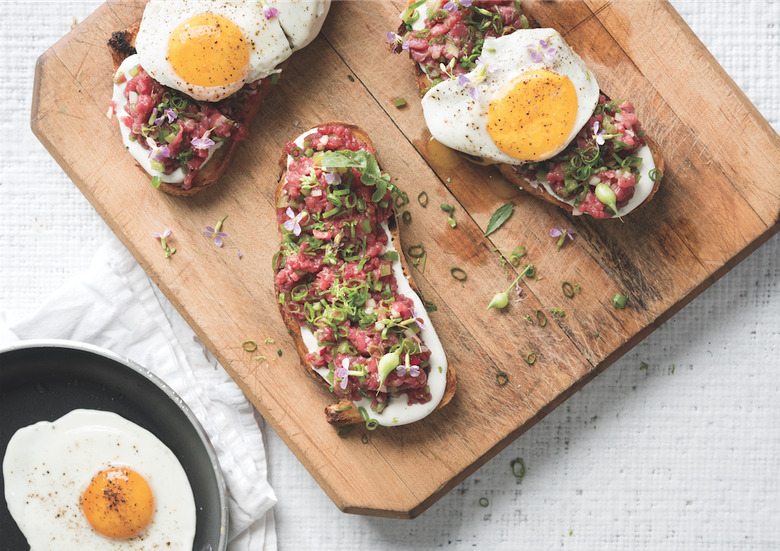 Ingredients
8 ounces eye of round or another inexpensive cut of beef
1/4 cup grated cloves garlic (9 or 10 cloves)
3 tablespoons crumbled cotija or feta cheese
4 or 5 radishes
3 tablespoons thinly sliced scallions
1 fresh jalapeño
1 red bell pepper
grated zest and juice of 1 lime
2 tablespoons olive oil
Kosher salt and freshly ground black pepper
4 1/4 inch-thick slices sourdough bread
4 tablespoons Mexican crema (see Note)
4 large eggs
Fresh cilantro flowers or fresh cilantro leaves
Directions
Using a sharp knife, cut the beef into small dice. Next, aggressively pass the knife through the meat to mince it so that it has the texture of raw ground meat. Transfer to a large bowl.
Add the garlic, cheese, radishes, scallions, jalapeño, bell pepper, lime zest and juice, and 1 tablespoon of the olive oil. Season with salt and pepper and mix together with a spoon, or your hands if you are really invested. Refrigerate for at least 1 hour to chill. If short on time, freeze for 5 to 10 minutes.
Arrange the toasts on a platter and spread 1 tablespoon of the Mexican crema evenly over each slice. Remove the meat from the fridge, taste and adjust the seasonings if necessary, and spread it evenly on the toasts, gently packing so that the toppings will not fall off.
Heat a large nonstick sauté pan over low heat. Add the remaining 1 tablespoon olive oil and, when hot, fry the eggs until the whites are completely set. Cover the sauté pan to steam the yolks. They should be fluid but not runny when they are done. (I like to say they are "pliable.") Season the eggs with salt and pepper and position an egg on top of each toast.
If you still have time on the clock, for some extra flavor, grab some cilantro flowers from your garden or chop some fresh cilantro leaves to garnish the eggs and tartare.