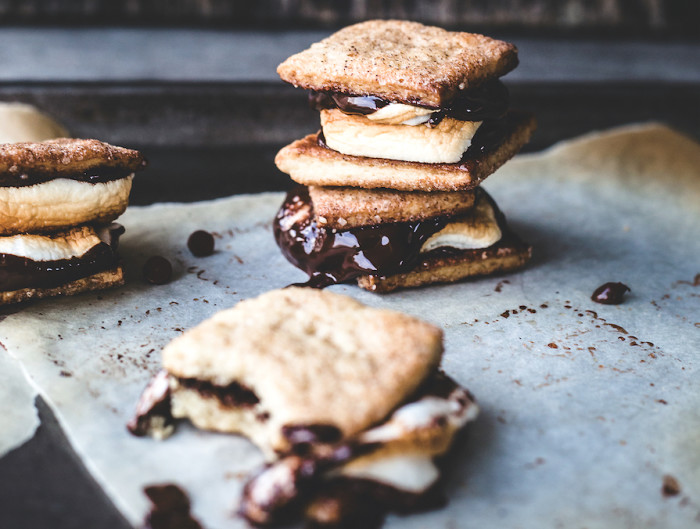 Award-winning food blogger Izy Hossack has a cookbook out that will reawaken your love of the kitchen. Read it, cook it and add some brand-new favorites (which just HAPPEN to be vegan) to your everyday repertoire, like these caramelized pie crust s'mores. 
So you've just made a pie. A beautiful, delicious pie. Now there are all these scrappy pieces of unbaked pastry sitting in a ball on your counter. I always feel sad throwing away pastry scraps (I made that with my HANDS, man). It's such a shame to waste something so delicious, but I've found the perfect solution: roll out any pastry scraps using a mixture of flour and sugar to dust your work surface, and bake them with a little cinnamon-sugar sprinkled on top. The sugar embedded in the pastry caramelises and crisps so you end up with something like an American graham cracker. And if you sandwich them with super-dark chocolate, a toasted marshmallow and a pinch of flaky salt, they make the perfect s'mores.
Ingredients
plain (all-purpose) flour, for rolling

Demerara (raw) sugar, for rolling

Any quantity of un-baked pastry (flaky pastry is especially good)

2

tablespoons

ground cinnamon

4

tablespoons

granulated sugar

Dark (bittersweet) chocolate chips or large, thin squares (minimum 60 percent cocoa solids)

flaky salt, for sprinkling

large marshmallows, halved lengthways
Directions
For the s'mores
Preheat the oven to 350°F. Dust your work surface with a mixture of equal parts flour and demerara sugar. Sprinkle the pastry with a little of the flour and demerara sugar, too. Roll out the pastry to a thickness of about 1/8 inch.

In a small bowl, stir together the cinnamon and granulated sugar. Cover the surface of the dough with the cinnamon-sugar (there may be some left over, depending on how much pastry you have). Use your rolling pin to gently push the cinnamon-sugar into the surface of the pastry.

Cut into 2-inch squares and bake on a baking tray lined with baking parchment for 10–15 minutes until golden brown.

To make s'mores, flip the squares over, and transfer half of them to a wire rack. Sprinkle these squares with chocolate chips or top with a square of chocolate and a little flaky salt. Set aside, letting the chocolate melt. Preheat the oven to 400°F or heat the grill to its highest setting.

While the oven or grill is heating, top each square still on the baking tray with a halved marshmallow, cut-side down. Bake or grill until golden brown – watch them closely so they don't burn. Sandwich a marshmallow-topped and chocolate-topped square together and eat immediately.