Caramelized Onion And Prosciutto Macaroni And Cheese Recipe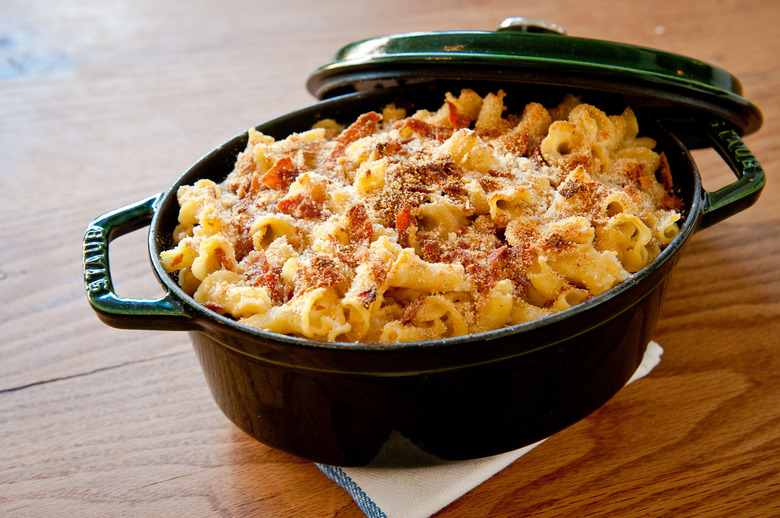 Crispy prosciutto-spiked, Thanksgiving-worthy macaroni and cheese. (Photo: Gabi Porter.
For some, it's just not Thanksgiving until a steaming casserole dish of homemade macaroni and cheese hits the table. I'm one of those people. We didn't always have mac and cheese on our Thanksgiving table until my "helpful suggestions" turned into "even more helpful making of the mac and cheese the day before."
I love the incredible savory element of the caramelized onions in this dish. Combined with the crisp, salty prosciutto, you'll hit a textural balance that'll make mashed potatoes pale in fear. Use our simple step-by-step recipe for killer béchamel sauce and our foolproof method for caramelizing onions. If you're making this the day before, wait until just before you slide it in the oven to add the breadcrumb topping.
Thanksgiving may be a holiday of peace and togetherness, but in my head, the side dishes are at war. Who will be be finished and who will be sent to Tupperware, maybe even home with someone else? Not this guy.
Caramelized Onion And Prosciutto Macaroni And Cheese Recipe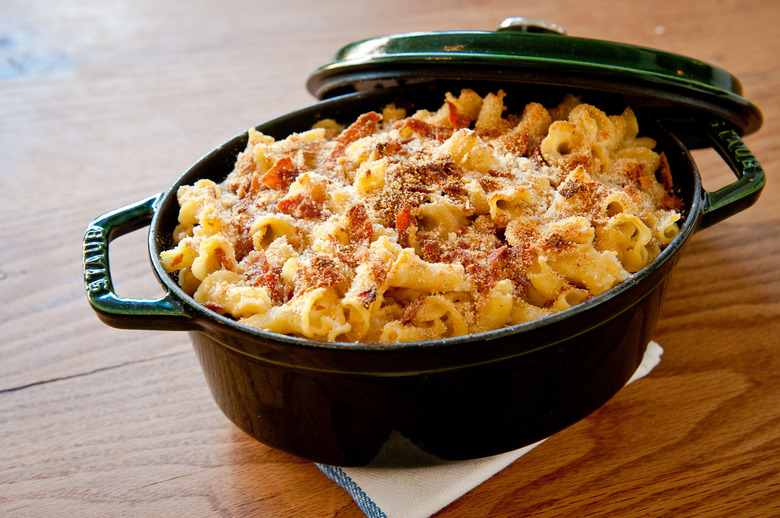 Ingredients
1 batch caramelized onions
1/3 pound prosciutto
2 batches bechamel sauce
1 1/2 boxes pasta shape of your choice
6 cups plus 3 tablespoons Gruyere
2 cups grated Pecorino Romano
2 cups breadcrumbs
2 tablespoons unsalted butter
1 tablespoon fresh thyme leaves
Salt and pepper
Directions
Prepare one batch of caramelized onions and set aside.
Preheat the oven to 375F, line a two baking sheets with alumnium foil and lay out the prosciutto in an even layer without overlapping.
Bake prosciutto for 20 minutes or until dark red-brown and very crispy looking. Remove from oven and cool to room temperature.
Crumble the prosciutto into small and large shards and set aside. 
Prepare two recipes' worth of béchamel sauce using our handy guide, then set aside. 
Cook the pasta according to directions in the largest pot you have, draining 2-3 minutes before it's al dente. 
While it's cooking, gradually whisk 6 cups of Gruyère and 1 cup of the pecorino into the béchamel over low heat in batches to prevent clumping. 
Toss pasta with béchamel to coat, then gently fold in crispy prosciutto and caramelized onions and transfer to a large casserole or baking dish.
Thoroughly combine the breadcrumbs, butter, thyme, remaining cup of pecorino and remaining Gruyère in a mixing bowl and season with salt and pepper.
Sprinkle the breadcrumbs evenly over the top of the macaroni and cheese and bake, uncovered, for 25 minutes or until the breadcrumbs are golden brown.
Allow to rest for at least 20 minutes before serving.