Caramel Pecan Tortoises Recipe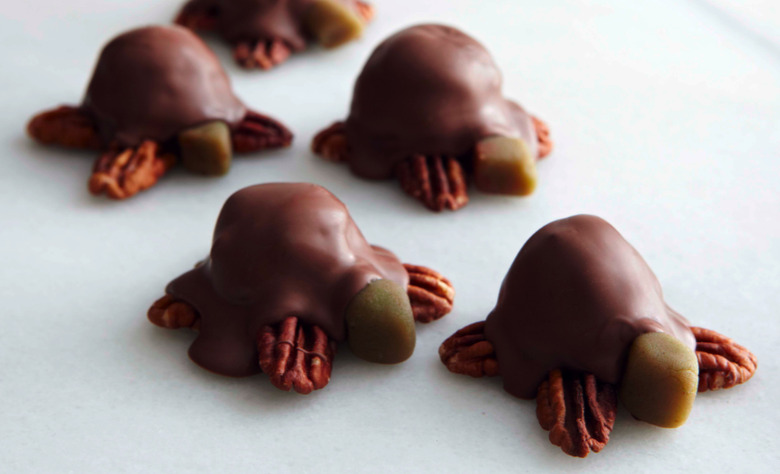 These turtles are almost too cute to eat. (Photo: Joseph De Leo.
We're crazy about the Hand-Crafted Candy Bars cookbook! Screw all those preservatives and artificial crap, we're going back to old-school candymaking techniques with these Caramel Pecan Tortoises. Cute, but importantly, functional. Inspired by a much-loved confection in the shape of a similar slow-moving reptile, we use pecans, caramel and chocolate to produce jaunty tortoises with edible marzipan heads. We roast our pecans, mix up rich caramel and use top-quality milk chocolate for the dipped "shells." The result is almost too cute to eat.
Caramel Pecan Tortoises Recipe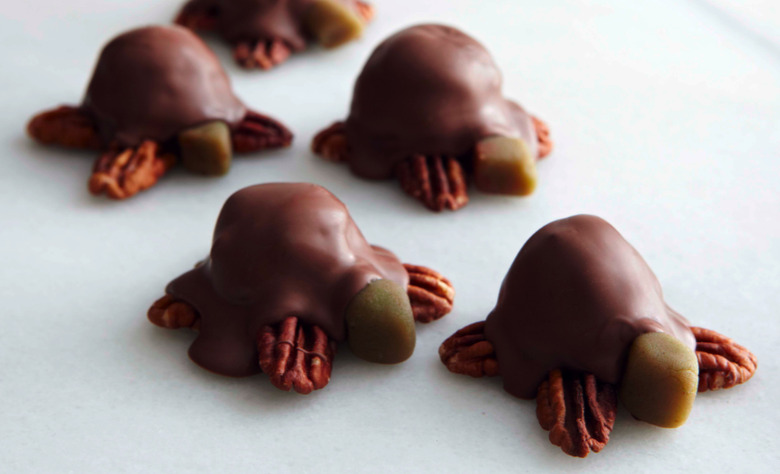 Ingredients
3 cups pecan halves
1 batch milk-chocolate caramel (see below)
3/4 cup store-bought marzipan
4 drops green food coloring
2 drops brown food coloring
1 batch tempered milk chocolate (see below)
3 cups ice
1 1/2 cups sugar
1/2 cup water
1/4 cup corn syrup
1 cup heavy cream
6 tablespoons butter
1 teaspoon vanilla extract
1 teaspoon salt
2 cups high-quality milk chocolate
3 cups ice
3 cups chopped high-quality milk chocolate
Directions
Put the ice in a large bowl and set aside.
Place the sugar and water in a medium saucepan. Stir the mixture until it resembles wet beach sand. Use a moist paper towel to wipe out any sugar that clings to the inside of the pan. Over medium heat, bring the mixture to a boil without stirring.
Add the corn syrup and cook for about 8 minutes, or until it turns entirely golden brown, the color of honey. When the mixture reaches 310°F on a candy thermometer, carefully place the pan into the bowl of ice for a few seconds to stop the caramel from cooking.
Remove the caramel from the ice and let it cool for 2 minutes, then add the cream, butter, vanilla and salt, and stir with a wooden spoon. (Be careful! The still-hot syrup sizzles!)
If some of the caramel has hardened on the bottom of the pan, return the pan to the stove and melt the bits into the mixture over low heat. Cool the sauce for 20 minutes, sprinkle in the chocolate and stir until smooth. For the firm semisolid texture that's ideal for this caramel, refrigerate for 1 hour before using in candy-bar production.
Put the ice in a large bowl and set aside.
Reserve a handful of the chopped chocolate and melt the rest gently in a stainless-steel bowl set over simmering water until it reaches 115°F on a candy thermometer. Remove the bowl from the heat. Wipe the bottom of the bowl with a dry cloth to prevent water from splashing onto the work surface.
Sprinkle the reserved chocolate into the melted chocolate and stir. Cool the chocolate by placing over the bowl of ice for a few seconds at a time, removing it, stirring until smooth and repeating until the temperature drops to 82°F.
Heat the chocolate again by placing the chocolate bowl back over the simmering water for 30 seconds to 1 minute at a time. Once its temperature rises to 89°F, the chocolate is ready to use in candy-bar production.
Preheat the oven to 300°F.
Line a baking sheet with parchment paper and roast the pecans until they're aromatic but not too brown, 10 to 15 minutes, and set aside.
As the caramel cools, line a baking sheet with parchment paper or aluminum foil. Place the pecan halves in groups of four on the baking sheet, arranging each group in an X-shaped formation.
Place the marzipan in a small bowl, apply the green and brown food coloring and knead it in until the marzipan turns the desired reptilian color. Adjust as needed with more food coloring.
Mold 20 approximately 1 1/2-inch, thin marzipan discs and place one over each point at which the four pecan halves intersect. Roll some of the remaining marzipan into small diamond-shaped heads and attach a head to each body.
Remove the caramel from the refrigerator and scoop a heaping 1 tablespoon onto each tortoise body. Press all the pieces firmly together. Refrigerate the tortoises for about 10 minutes.
Have the tempered chocolate at 90°F. Remove the tortoises from the refrigerator and pour 1 to 2 tablespoons of chocolate over each caramel body. (The chocolate should drip over all the elements where they connect to the main body, which will help hold the tortoise together. If you like, dab eyes on each tortoise face with a chocolate-dipped toothpick.) Return the tray to the refrigerator for 10 to 15 minutes. Serve at room temperature.
Store in an airtight container or a zip-top plastic bag at room temperature for 3 days, in the refrigerator for 2 weeks, or in the freezer for 2 months.
Chocolate Caramel Peanut Bars Recipe
Chocolate-Dipped Almond Meringues Recipe
Chocolate Hazelnut Cheesecake Recipe