Caprese Pesto Kale Salad With Crispy Tofu Recipe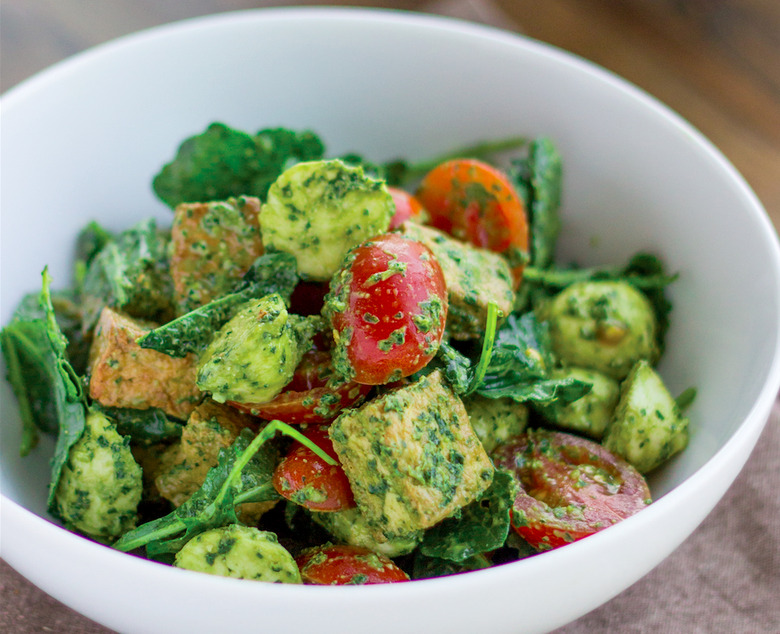 We may receive a commission on purchases made from links.
Fact: Vegetarian food can be every bit as protein-packed as its omnivorous kin. Veggie and the Beast bloggers Katie Parker and Kristen Smith's loaded new cookbook is an ode to vegetarian food with rib-sticking heartiness, and this spin on the traditional caprese salad is no exception. Ready for lunch?  
This salad is not only easy to make but also packed with protein, nutrients, and Italian flavors. Bites of fresh mozzarella are mixed with sweet cherry tomatoes, baby kale, tofu crispy enough to be mistaken for croutons, and a flavorful basil pesto dressing.
Reprinted with permission from The High-Protein Vegetarian Cookbook
Caprese Pesto Kale Salad With Crispy Tofu Recipe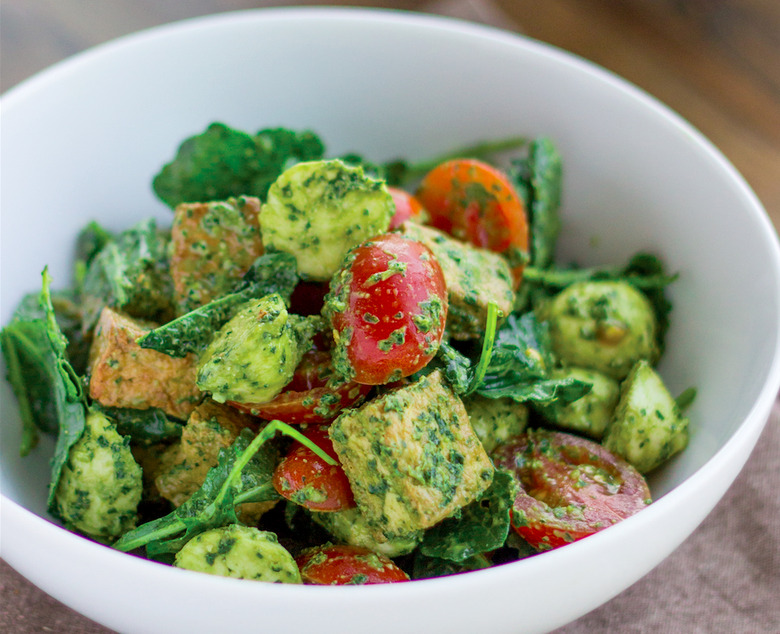 Ingredients
1 (14-ounce) container extra-firm tofu
3 tablespoons extra virgin olive oil
1/2 teaspoon fine sea salt
2 cups cherry tomatoes
6 ounces fresh mozzarella balls
2 cups packed baby kale
2 cups packed fresh basil leaves
2 cloves garlic
1/4 teaspoon fine sea salt
2 tablespoons pine nuts
1/2 cup low-sodium vegetable broth
2 tablespoons extra virgin olive oil
Directions
Slice the tofu into four pieces.
Wrap the pieces in a towel, place a cutting board on top of the towel, and press down with all your body weight. Do this three or four times.
Cut the tofu into cubes.
Heat the olive oil in a large nonstick skillet over medium heat.
Add the tofu and salt and cook, stirring occasionally, until all sides are golden brown (10 to 15 minutes).
While the tofu is cooking, make the pesto: Combine the basil, garlic, salt and pine nuts in a food processor.
Pulse until all ingredients are very finely chopped.
Slowly pour in the vegetable broth while the processor is running, and then add the olive oil, again while the processor is running.
Combine the tomatoes, mozzarella, fried tofu and kale in a large bowl.
Stir in the pesto dressing.
Vegetarian Stuffed Vegetables Recipe
Polenta With Winter Salad, Poached Egg And Blue Cheese Recipe
Winter Squash And Couscous Salad Recipe