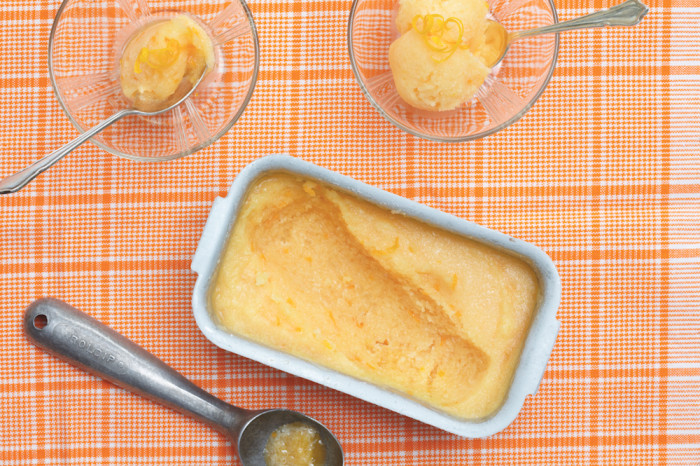 This orange sorbet recipe makes for a great palate cleanser. It's light and cooling, and you're also getting loads of vitamin C, plus a smattering of potassium and beta-carotene, which will help you fight off the winter chills.

This is best eaten on the day it is made, as homemade sorbets tend to go hard. If this happens, allow the sorbet to defrost, then re-churn.
Ingredients
6

oranges, juiced and zested

1/2

cup

superfine sugar

2

sprigs

mint

3

tablespoons

Campari
Directions
Heat the orange juice with the zest, sugar, and mint in a non-reactive saucepan until it comes to a boil and the sugar has dissolved.
Allow to cool to room temperature, add the Campari, remove the mint and discard.
Pour into your ice cream machine, and follow the manufacturer's instructions.
Keep in the freezer.
Tip: If you don't have an ice-cream machine, you'd be better off turning this recipe into a granita, which is a water ice. Simply pour the cooled mixture into a shallow tray and place in the freezer. After about 1 hour, when the mix is starting to freeze, break it up with a whisk and repeat every 15 minutes until you have a frozen slush.