Cajun Fish And Shrimp Sliders Recipe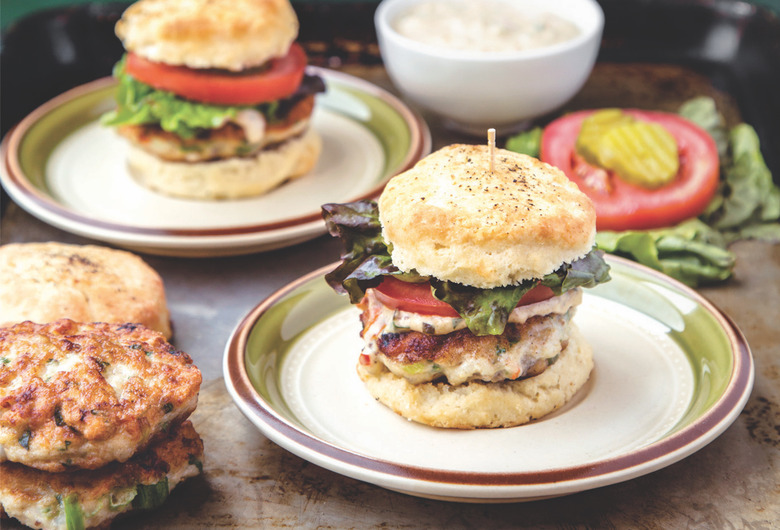 We may receive a commission on purchases made from links.
When it comes to finger food, it's hard to beat the slider. A tiny, perfect version of the sandwich you'd eat as a full meal is just about the best culinary blank canvas we can imagine, so naturally, we're snacking our way through photographer and recipe developer Jonathan Melendez's new cookbook. Grab The Slider Effect and a dozen biscuits — it's Cajun fish and shrimp slider time.
Making fish cakes at home is relatively new to me. I only discovered it recently, when I was really craving a homemade fish burger. Instead of going down the freezer aisle to pick up a pack of breaded "fish patties," I decided to be adventurous and try the fresh seafood case instead. Turns out, grinding up fish and shrimp with a bunch of other ingredients to make a mixture isn't all that difficult. The food processor does all the work for you. This slider is inspired by my trips to New Orleans. Catfish and shrimp are ground and formed into a patty, seared, and then topped with Cajun rémoulade sauce, lettuce, tomato, and pickles. Any white fish will work very well here — try cod or trout if you prefer.
Cajun Fish And Shrimp Sliders Recipe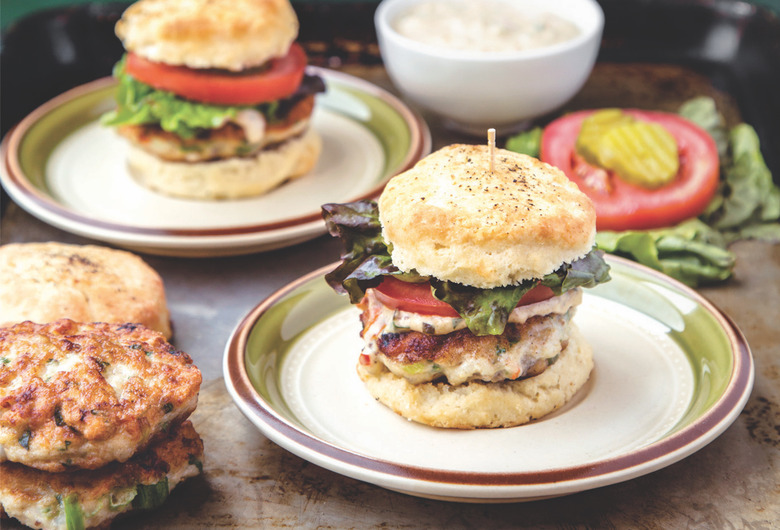 Ingredients
3/4 pound catfish fillets
1/2 pound uncooked jumbo to extra-large shrimp (15 to 21 count)
1/4 cup sliced green onions (green and white parts)
1 large egg white
2 tablespoons chopped fresh parsley
1 tablespoon all-purpose flour
1 tablespoon mayonnaise
1 teaspoon Creole or Dijon mustard
1/2 teaspoon kosher salt
1/4 teaspoon coarsely ground black pepper
2 tablespoons olive oil
12 store-bought biscuits
6 red lettuce leaves
2 medium tomatoes
1/2 cup pickle chips
1/4 cup mayonnaise
1/4 cup dill pickle relish
3 tablespoons Creole or grainy mustard
2 tablespoons minced yellow onion
2 tablespoons minced celery
2 tablespoons minced red bell pepper
2 tablespoons chopped parsley
1 tablespoon ketchup
1 tablespoon fresh lemon juice
1 garlic clove
Couple dashes hot sauce
Pinch kosher salt
Few grinds fresh black pepper
Directions
:::rémoulade:::
For a smooth sauce, combine all the ingredients in a food processor and process until finely chopped and well combined. Alternatively, for a more rustic sauce, combine everything in a bowl and stir until evenly incorporated.
Give the sauce a taste and adjust seasonings accordingly, adding more salt or pepper if needed. Transfer to an airtight container and store in the refrigerator until ready to use. Can be kept, chilled, for up to 3 days.
:::sliders:::
Cut the catfish into small chunks. Place the catfish, shrimp, green onions, egg white, parsley, flour, mayo, mustard, salt, and pepper in a food processor. Process 6 to 10 times, until the fish and shrimp are coarsely chopped and the mixture looks like ground meat.
Line a baking sheet with parchment paper. Using wet or lightly greased hands, shape the fish mixture into 2-inch round patties, each about ½ inch thick.
Coat the bottom of a skillet with the olive oil and place over medium-high heat. Once hot, cook the fish cakes, a few at a time, until cooked through and golden brown on both sides, 8 to 10 minutes total. Make sure to flip them halfway through. Patties should be firm to the touch. Transfer to a platter and cook the rest.
To assemble the sliders, split the biscuits in half. Spread the rémoulade onto the bottom of the biscuits and top with a fish cake, lettuce, tomato, and a few pickle chips. Sandwich with the top half of the biscuit and skewer with a long toothpick to hold in place. Serve immediately.