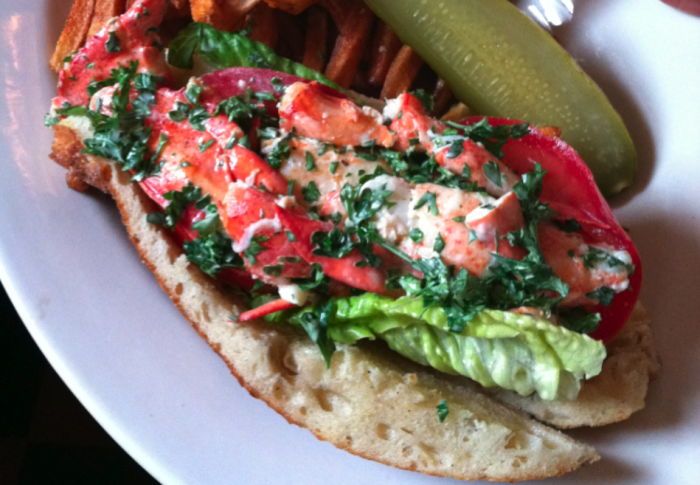 Happy Lobster Roll Week! To celebrate this sweet, briny jewel of the summer sandwich menu, we're running five straight days of recipes, interviews, chefs' expert tips and pairings. If you thought you were craving a buttery bun stuffed with fresh lobster meat before this official celebration, it's about to get critical. Pick up a lobster or four and churn out one of the most important dishes of the summer. Freshen up your roll game with foccacia.
Says Chef Kerry Altiero, Maine Lobster Chef Of The Year 2012:
"Maine lobster, being one of the best proteins on earth, is a no brainer. Cafe Miranda is located in Rockland, Maine: the lobster capital of the world. Many of our customers over our 20+ years are local lobstermen and we support them as they support us. Local was, is and will be how we operate in Maine and at Cafe Miranda."
Any tips for cooking, chef?
"The absolutely best way is to head down to the docks and get a bucket of sea water. In Nebraska? Sea-salting the water is okay."
Ingredients
3

ounces

chilled Maine lobster meat

1

ounce

aioli, (you can substitute a quality mayo with 1/4 teaspoon minced garlic, dash of fresh lemon juice and 1 teaspoon fresh parsley)

1

tablespoon

chopped parsley

1

lemon wedge

leaf of

romaine lettuce

3

slices

tomato

1

(6 x 4-inch) chunk of

focaccia bread

1/2

ounce

extra virgin olive oil

fresh cracked pepper

sea salt
Directions
If your lobster is still alive and kicking, fill a pot with an inch of salted or sea water with seaweed, if you have it.

Bring to a boil, place the squirming creature on the seaweed or use a veg steamer screen so the critter is not immersed. Steaming rather than boiling keeps more of the flavor in the shell rather than extracting it into the boiling water.

Steam the critter for 20 min, plunge it into iced water to "shock" or cease the cooking process, then cool and remove the meat.

Split the focaccia, leaving a crust side attached, making a "roll" and drizzle the olive oil on the interior surfaces of the bread.
In a suitable bowl, toss the lobster with the aioli (or mayo mix), parsley, lemon, salt and a fair amount of cracked pepper.
Lay the leaf of romaine in the bottom of the "roll" as this prevents the roll from getting soggy. Lay the slices of tomato on the romaine leaf. Finally, top with lobster mixture.
More lobster roll recipes on Food Republic: