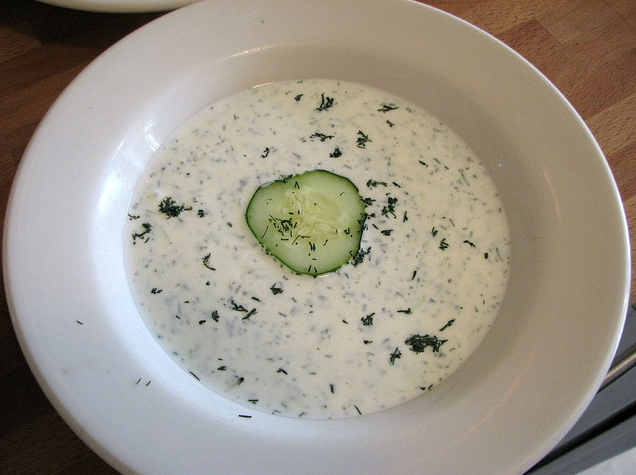 Yes, gazpacho is great, but after slurping the stuff all summer, I needed a break from the cold tomato concoction. Enter cacık (pronounced JAH-jek), another hot-weather favorite. The Turkish cold soup is basically a tzatzki thinned out to a soup-like consistency. Just when you thought tzatzki couldn't get any better because you discovered what it does to a burger, now you can scarf it down by the bowl!
Try different garnishes to switch it up — chopped red onions, a little crumbled feta, some sliced cucumbers or a sprinkle of ground cumin all pump up this dish's tangy, refreshing flavors. It's also great as a soup shooter if you're doing hors d'oeuvres.
Ingredients
2

cups

homemade yogurt or Greek yogurt

3

medium cucumbers

diced

2

cloves

garlic, minced

2

tablespoons

dried mint

2

tablespoons

good quality extra virgin olive oil

1/2

cup

cold water

salt
Directions
Place the yogurt in a large bowl with the mint, garlic, olive oil and cucumber. If you decide on going with homemade yogurt, here's the recipe.
Add the water a little at time until a soup-like consistency is reached.
Stir in salt, taste and add more if required. Chill in refrigerator for about two hours before serving.
Serve cold — add a few ice cubes into the soup before serving if you wish.