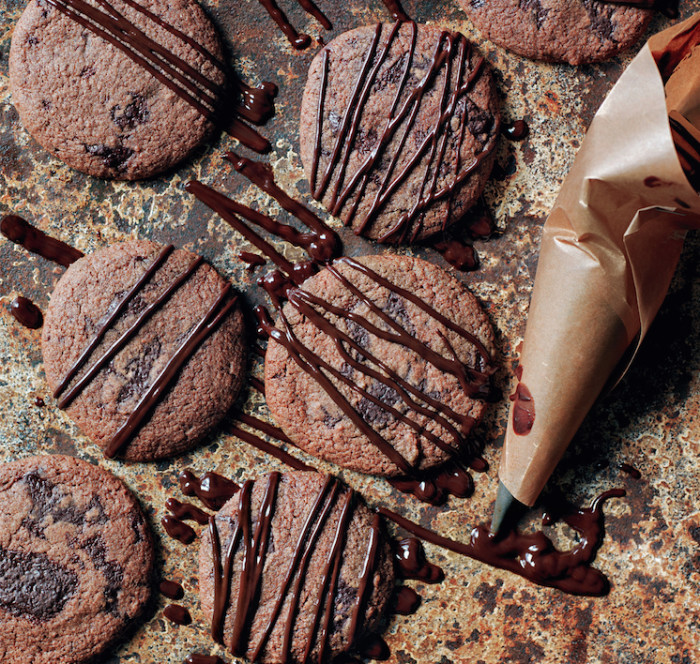 Take one look at the photo above and get ready to crave cacao fudge cookies. Donna Hay, Australia's go-to home cook, has a new collection of recipes out that will inspire you to eat more healthfully while sacrificing nothing in terms of flavor and aesthetics. Whether you're making yourself a casual lunch or masterminding an upscale dinner party, this is one book that will help ensure that everyone is nourished, satisfied and eager to know where you got the recipe. We're glad to put this delicious dessert on your radar.
Ingredients
1

cup

brown sugar

7

tablespoons

unsalted butter or coconut oil, slightly softened

1/2

cup

maple syrup

2

teaspoons

vanilla extract

1/3

cup

raw cacao powder

1

cup

wholemeal spelt flour

1/2

cup

buckwheat flour

1

egg

2/3

cup

raw cacao chocolate or dark chocolate, roughly chopped, plus extra, melted, to serve
Directions
For the cookies
Preheat oven to 320°F.

Place the sugar, butter, maple syrup and vanilla in a bowl and mix to combine.

Add the cacao, both the flours, the egg and chopped chocolate and mix to combine.

Roll tablespoons of the mixture into balls, flatten slightly and place on baking trays lined with nonstick baking paper.

Bake for 12 minutes or until golden. Allow to cool on trays. Drizzle cooled cookies with the extra melted chocolate to serve. Store in an airtight container for up to 1 week.