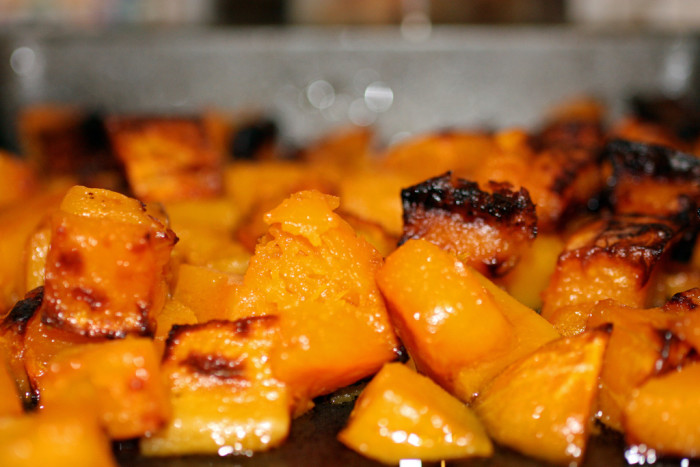 Although a mozzarella or even a Jack would work, there is something about combining the tang of sheep's milk and the creaminess of the squash that just works perfectly in this dish. The addition of chili-spiked wildflower honey (a.k.a. "Devil's Honey") adds a sweet heat that cuts through the richness of this dish.
Ingredients
For the squash
2

butternut squash

6

tablespoons

extra virgin olive oil

sea salt

1/2

pound

Pecorino cheese, cut into 1/4 inch thick slices
For the Devil's Honey
1/2

cup

wildflower honey

1/4

teaspoon

crushed red chile flakes
Directions
To prepare the squash:
Preheat the oven to 375°F.
Peel the squash and cut the neck of each squash into 1-inch rounds. Reserve the bottoms of the squash for another use. Drizzle with a little olive oil. Use your fingers to coat every side of the squash rounds with the oil. Season with sea salt.
Bake the squash rounds on a baking sheet/tray for 20 to 30 minutes, or until the squash is tender to the touch of a fork. Set aside until cool enough to handle.
Lightly oil a baking dish and either layer the slices of cooked squash and cheese au cheval (shingled like fallen dominos) or stack up in towers. Bake for 15 to 20 minutes, or until the cheese is runny and gooey.
To prepare the devil's honey:
Combine the honey and chilies in a small saucepan. Cook gently over medium heat until the honey just begins to bubble. Remove from heat and let cool to room temperature.
Drizzle the honey over the squash before serving.