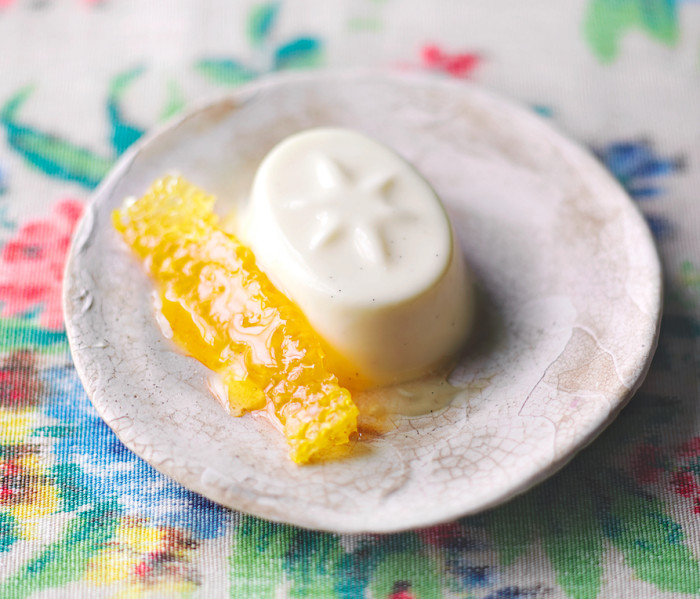 London-based writer and cookbook author Hattie Ellis' new book, Honey, sweeps the globe to find the best recipes starring sweet, natural honey. From sweet to savory, appetizer to dessert, if you're a fan of this versatile sweetener, she has a recipe for you. Start from the ground up where honey lives — the honeycomb — with this simple buttermilk panna cotta.
Honeycomb is one of nature's treats: a gleaming segment cut from the frame in a hive, honey at its most natural. Bees store their honey here in hexagonal wax containers, as if in thousands of little pots. It is quite difficult to buy large pieces of comb. You are most likely to find them in delis, farm shops, honey specialists and gift shops with links to a local beekeeper. Seek them out: honeycomb is so beautiful that you can make a dessert or breakfast special with just a small piece. I also love it on crumpets for tea.
Buttermilk was traditionally the liquid left over from butter-making. Now it is made specifically for its slightly tangy flavor, which works well in a creamy panna cotta alongside the honeycomb. The comb is the honey component of the dish, and the panna cotta is sweetened with sugar. Honey is a precious and powerful spoonful, best used carefully and without overloading its flavor. You can make this the day before you serve it.
Ingredients
2

small sheets

leaf gelatin

1 1/4

cups

heavy cream

1

cup plus 2 tablespoons

buttermilk

7

tablespoons

superfine sugar

1

vanilla pod, split in half lengthwise and seeds scraped out, or 1 teaspoon vanilla extract

6

thin slices

honeycomb

1

ripe mango, peeled and cut into small slices, or 3/4 cup berries such as raspberries or blueberries (optional)
Directions
Put the sheets of gelatin in a shallow dish, cover with cold water and leave to soak for 5 minutes.
Meanwhile, pour the cream and buttermilk into a pan.
Add the sugar and either the seeds of the vanilla pod or the vanilla extract.
Heat gently, stirring often, until the sugar dissolves.
Squeeze the water out of the gelatin and stir it into the warm cream mixture until it dissolves completely.
Pour the liquid into six 3 1/2-ounce molds (small coffee cups will do).
Leave to cool, then cover with plastic wrap and chill for at least 1 hour. The panna cotta will set up completely as it chills.
To serve, run the tip of a knife around the top of each mold, then briefly dip the mold into a bowl of hot water and turn out onto a plate.
Serve with a slice of honeycomb on the side, along with mango or berries if you like.
Find more creamy desserts on Food Republic: