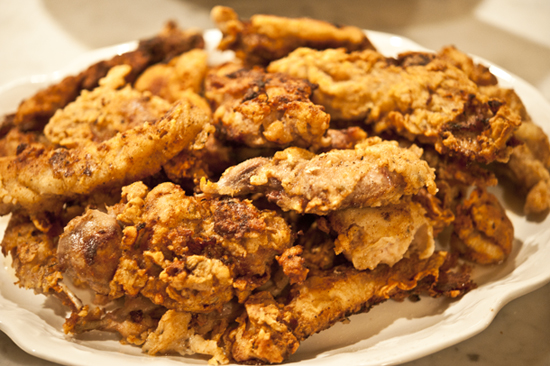 Introduced in France in the Middle Ages as a game animal, rabbit became pervasive and overtook crops, providing more incentive to hunt them. King Louis XVIII became such a connoisseur of rabbit that he could tell which region of the country a rabbit was killed in, simply by smelling its flesh. You are what you eat, after all, and Provence was flush with sage. Young rabbits are best fried, because they are so tender.
The best way to check a rabbit's age is to tear one of its ears lengthwise; if it tears easily, the animal is young. Also, look for very white teeth. Before cooking a rabbit or a squirrel, I also typically soak it in saltwater for several hours, if not overnight. This helps extract impurities and retain its moisture during cooking.
Ingredients
1

young cottontail rabbit, cut into serving pieces

2

cups

buttermilk

1

medium-size

onion, finely sliced

3

garlic cloves, diced

1

teaspoon

dried oregano

1

teaspoon

dried thyme

1

teaspoon

dried tarragon; or 1 teaspoon each of your three favorite herbs

1

teaspoon

smoked paprika

1

tablespoon

cayenne

2

cups

all-purpose flour

1

teaspoon

garlic powder

1

teaspoon

onion powder

Salt and pepper

2

to 3 cups

grape seed or vegetable oil
Directions
1. Soak the rabbit overnight in the buttermilk, along with the onion, garlic, herbs, paprika, and 1 teaspoon of the cayenne.
2. Drain in a colander, leaving some herbs on the rabbit. In a large resealable plastic bag or in a large bowl, mix the flour with the garlic and onion powder and remaining 2 teaspoons of cayenne, as well as a pinch of salt and pepper. Meanwhile, heat the oil in a large, heavy-bottomed skillet over medium-high heat until a pinch of flour starts to sizzle when dropped in the hot oil, but not so hot as for the oil to be smoking.
3. Place the rabbit pieces in the bag with the flour mixture and shake until thoroughly coated. Do this in small batches, dredging just enough rabbit to fit in the pan at one time.
4. Add the rabbit to the skillet and fry on one side for about 10 minutes, until golden brown, then use tongs to turn the pieces over and fry for another 10 minutes, again until golden brown. Be careful to keep the oil hot enough to fry the rabbit, but not so that it burns.
5. Remove the rabbit from the skillet and place it on a wire rack over paper towels. Season immediately with salt and pepper to taste, to help preserve the crispiness for the table. This is good served immediately or also good cold for lunch the next day.