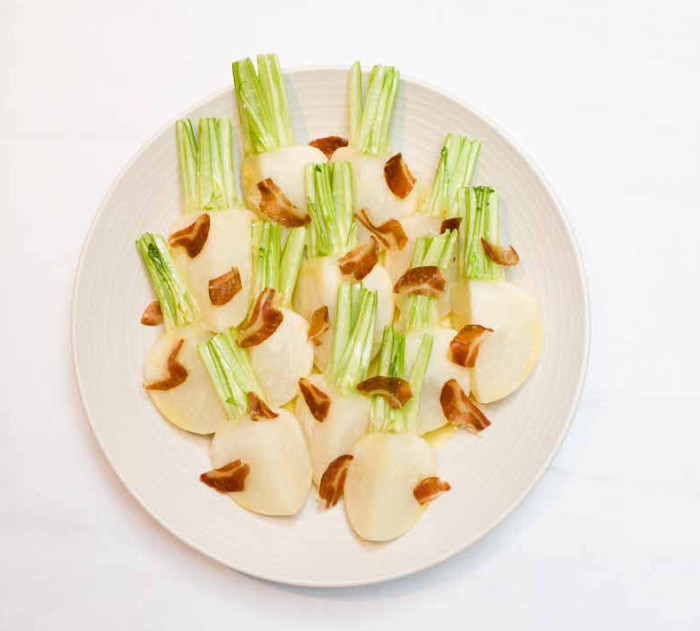 Mississippi chef Brad McDonald takes on the American South in his new book, Deep South. With time-tested recipes and modern spins on Southern favorites alongside stories, history, profiles and more, this is a superb volume that goes well beyond fried chicken and banana pudding.

Part of the joy of Southern cooking is being able to elevate simple ingredients into a great dish. This recipe takes turnips, buttermilk, ham and butter to create a dish that is perfectly balanced in natural sweetness, acidity, and saltiness. It can be a meal in itself during the colder months. You can save the leafy turnip tops to braise with your next batch of greens, or add them to the braise below when it is almost done.

The quantity of butter in the sauce looks alarming, but you can keep the excess sauce in the fridge for a few days and use it for braising other vegetables or fish.
Ingredients
1

quart

buttermilk

1

cup

water

2 1/4

pounds

unsalted butter, diced

2 1/2

pounds

turnips, peeled and cut into quarters

3 1/2

ounces

Country ham or serrano ham, thinly shaved

sea salt
Directions
For the turnips
Pour the buttermilk into a large pan and boil until reduced by half. Whisk in the water using a balloon whisk.

Off the heat, whisk in the butter, a few pieces at a time, so that it forms a smooth emulsion; if it cools down too much, return it briefly to the heat. Add some salt, then add the turnips, cover and braise over a low heat for 25-30 minutes, until the turnips are tender. If the butter emulsion looks as if it is about to separate while the turnips cook, top it up with a little water to maintain its stability.

Once the turnips are tender, lift them out of the emulsion and serve garnished with the ham.