Buttermilk-Baked Chicken Recipe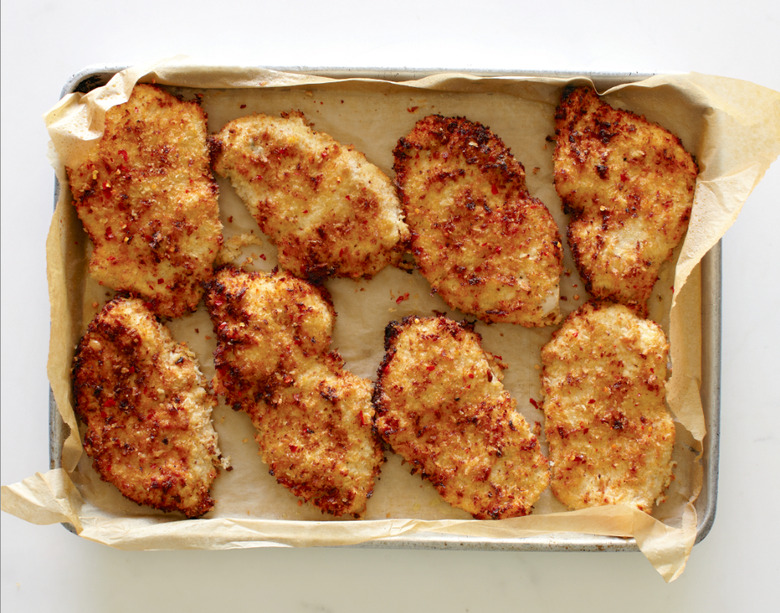 Photo: Victoria Pearson
We may receive a commission on purchases made from links.
If you haven't heard of Lemonade, the fresh-food concept that's taken Los Angeles (and now Dubai) by storm, be sure to hit one up the next time you're on the West Coast. Our recipes editor is pretty obsessed, so you can imagine we jumped on Lemonade's newly released cookbook to share some of their best dishes with you. Try this buttermilk baked chicken on for size — you won't miss the deep-fryer.
The key to any good fried chicken recipe is a buttermilk marinade, and this lightened up version takes the same cue. Thankfully, it's still pretty easy to capture the crunchy goodness of fried chicken with a baked alternative. Buttermilk is slightly acidic, helping to tenderize the chicken and lending a pleasantly tangy flavor. Crispy and moist, the golden brown chicken is excellent right after it comes out of the oven, but it's also equally good cold. For a potluck, slice the buttermilk chicken and top with any of the marketplace vegetables of your choice, or nestle into a sandwich. For best results, marinate the chicken for a couple of days, so plan accordingly.
Buttermilk-Baked Chicken Recipe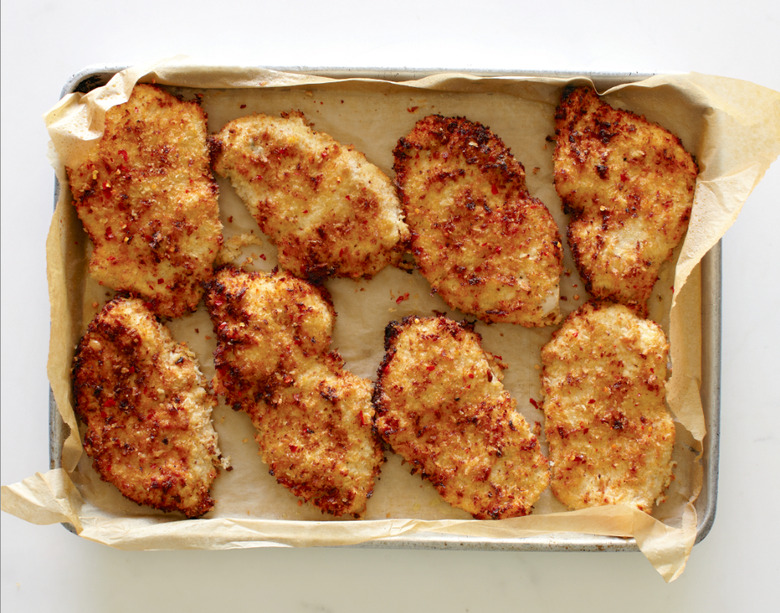 Ingredients
2 cups buttermilk
1 tablespoon Dijon mustard
1 tablespoon hot sauce
2 teaspoons paprika
1 teaspoon coarse salt
1 onion
5 garlic cloves
4 (6-ounce) skinless boneless chicken breast halves
2 cups panko (Japanese-style) breadcrumbs
freshly ground black pepper
2 tablespoons canola oil
Directions
To prepare the marinade, in a large mixing bowl whisk the buttermilk, mustard, hot sauce, paprika, salt, onion and garlic together to combine. Put the chicken in a plastic storage bag, add the buttermilk mixture and smoosh the chicken around to thoroughly coat in the marinade. Press out the air, seal the bag and marinate the chicken in the refrigerator for at least 24 hours, preferably up to 2 days.
When ready to cook the chicken, preheat the oven to 400 degrees F.
Remove the chicken from the marinade, wiping off any excess buttermilk, and discard. Season both sides of the chicken breasts lightly with salt and pepper. Spread the breadcrumbs out on a flat plate. Press the chicken breasts into the breadcrumbs to completely coat all sides, shaking off the excess.
Put a cast-iron or ovenproof skillet over medium-high heat. Coat the pan with 2 tablespoons of oil. Once the oil is shimmering, lay the chicken in the pan – you may have to do this in batches. Sear for 3 minutes on each side. Nestle the seared chicken breasts side by side in the skillet. Transfer the skillet (and chicken) to the oven and bake for roughly 20 to 25 minutes, or until the chicken is cooked through and the crust is golden.
Fried Yardbird Recipe
Union Square Café Fried Chicken Recipe
Hot Bird! Mexican Fried Chicken Recipe