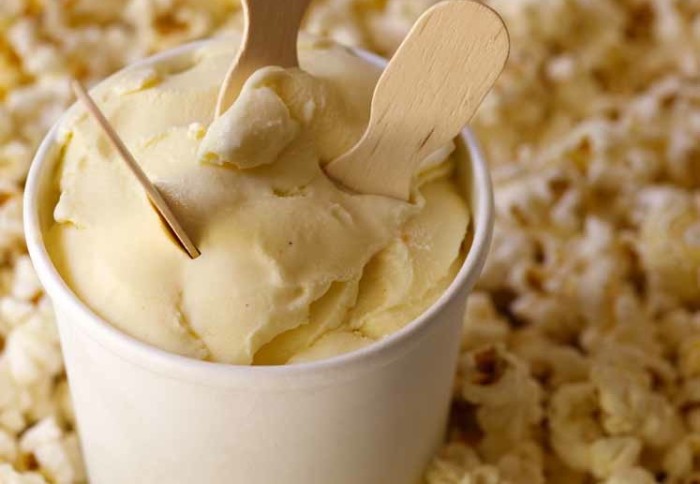 Hedy Goldsmith is executive pastry chef for The Genuine Hospitality Group, including Michael's Genuine in Miami. Her first cookbook, Baking Out Loud: Fun Desserts With Big Flavors, came out last week, and she's offering a preview with a few recipes on Food Republic.
I've given up meals for a tub of movie theater popcorn. I love the flavor so much, I had to create a gelato version. This gelato is so unique that I actually served it as a side dish for a hamburger at the Food Network South Beach Wine & Food Festival's famous Burger Bash. My popcorn ice cream sandwich was the belle of the Burger Ball. Oh, and the popcorn must be freshly made – don't even think about store-bought or the microwave variety. Sure, it might be faster, but the gelato will taste terrible!
Ingredients
3

cups

heavy cream, plus extra if needed

1 1/2

cups

whole milk

1

cup

sugar

1

teaspoon

kosher salt

14

cups

freshly popped popcorn

4

extra large

egg yolks
Directions
In a very large saucepan, combine the heavy cream, milk, 1/3 cup of the sugar, and the salt. Cook, whisking, over medium heat until just barely boiling and the sugar is dissolved, about 4 minutes. Add the popcorn and stir until coated. Cover and set aside until cool, about 30 minutes.
Strain the cream through a fine-mesh strainer into a medium saucepan, firmly pressing on the popcorn with the back of a spoon to extract every last drop of flavor and cream. You should have about 3 cups of liquid. Add more cream, if needed, to come up to this amount.
In an electric mixer fitted with the whisk attachment, beat the egg yolks and the remaining 2/3 cup sugar on medium-high speed for 5 minutes, or until the mixture is pale and thick and forms a ribbon when the beater is lifted.
Over medium heat, bring the cream mixture back to a simmer. With the mixer on medium-low speed, slowly pour the mixture into the egg yolks until blended. Pour the whole mixture back into the saucepan. Cook over medium-low heat, stirring constantly with a heatproof spatula—making sure you get the sides and bottom of the saucepan—until the custard is thick enough to coat the spatula and to hold a line drawn through it with your finger, about 3 to 5 minutes.
Pour the custard through a fine-mesh strainer into a bowl. This custard needs to be cooled at room temperature! Because of the oil, it will harden if refrigerated, and the churned gelato won't have a smooth texture but will be more like overwhipped heavy cream and have a granular texture.
To churn, pour the custard into an ice cream maker and process according to the manufacturer's instructions. Serve immediately, or for a firmer gelato, scrape into a chilled bowl, cover, and freeze until firm, or for up to 3 days.
Try these interesting ice cream recipes on Food Republic: