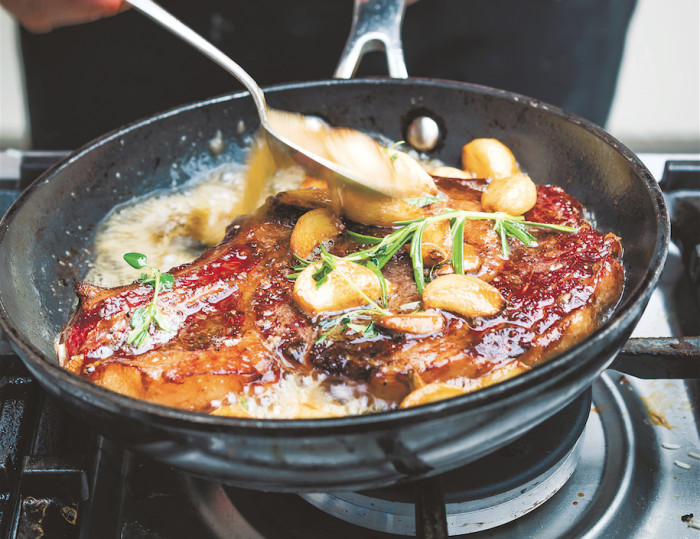 Richard Turner, author of meat-centric tomes Pitt Cue and Hog, has a new book out dedicated to the art of beef. Craving tartare, Porterhouse or simply the best cheeseburger you can make? This cookbook is your one-stop shop. Try this butter-fried steak with golden garlic. Beef and butter is a foolproof combination that results in something truly impressive.
This is old-school French cookery at its best. If you can find grass-fed butter, then use it – evidence is mounting that grass-fed butter is healthier than intensively farmed butter, and it's certainly better
for you than margarine or oil.
Ingredients
2

1 pound 2 ounces

bone-in steaks such as T-bone or prime rib, cut 1/8-inch thick

1 3/4

ounces

beef dripping

9

tablespoons

unsalted butter

4

thyme sprigs

2

garlic bulbs, cloves separated and peeled

1

rosemary sprig

Maldon sea salt flakes and freshly ground black pepper
Directions
For the steaks
Season the steaks all over with salt and pepper.

Heat the dripping in a large cast-iron skillet or frying pan. When it has melted and is foaming, add the steaks and cook over a high heat until crusty on the bottom, about 3–4 minutes.

Turn the steaks and add half the butter, the thyme, garlic cloves and rosemary to the skillet.

Cook over a high heat, basting the steaks with the foaming butter, garlic and herbs, turning once more and adding the remaining butter. Cook until the steaks are medium-rare, 3–4 minutes longer. Transfer the steaks to a chopping board or plate and allow to rest for at least 10 minutes, preferably longer.

Remove the herbs and keep frying the garlic until golden and soft. Cut the steaks off the bone, then slice the meat across the grain and serve with the meat resting juices poured over and the fried garlic cloves.