Butter-Braised Radishes Recipe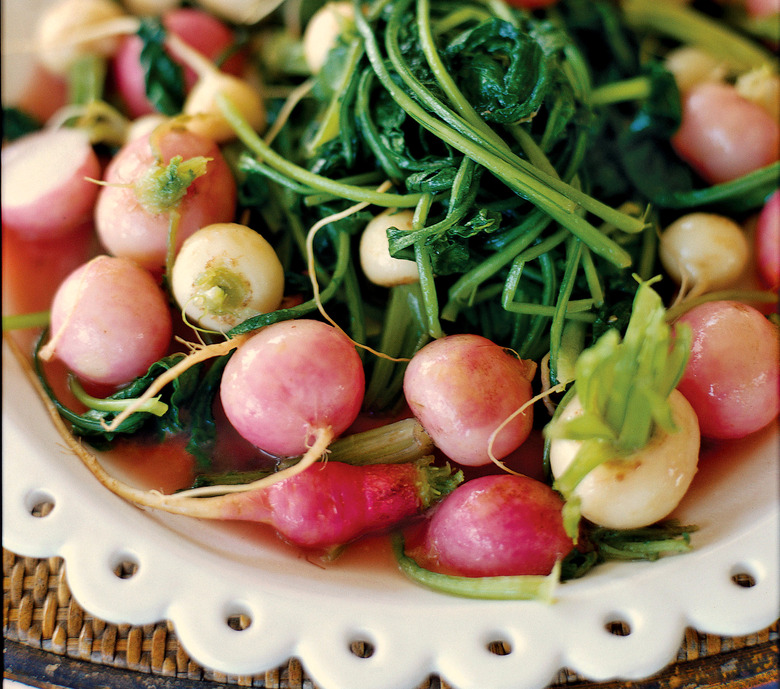 Keep your eye on these while they cook, as they'll can easily be overdone. (Photo: Quentin Bacon.
We may receive a commission on purchases made from links.
Whether you're vegetarian, eating light or observing Meatless Monday, a recipe by Peter Berley is guaranteed to satisfy. We've borrowed a few recipes from his award-winning cookbook, The Flexitarian Table, so you have every reason to expand your healthy cooking repertoire. Try this light, seasonal radish preparation as a side dish to heartier fare.
Served whole, cooked radishes are a real treat. Small white baby turnips with their greens are lovely prepared this way too. Be aware that these cook fast, going from tender to mush in a blink.
Butter-Braised Radishes Recipe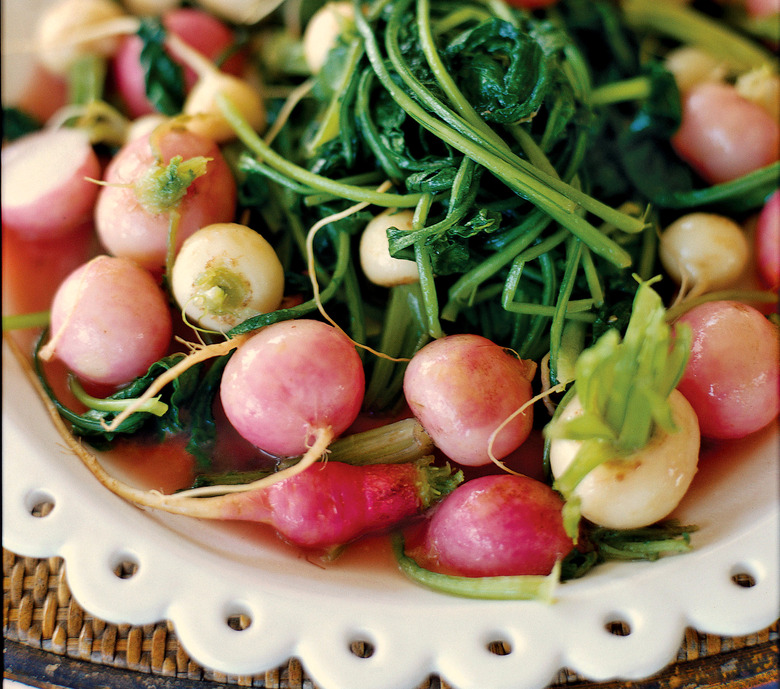 Ingredients
1 large or 2 small bunches radishes (about 2 pounds)
3 tablespoons unsalted butter
1 teaspoon brown sugar
sea salt or kosher salt
2/3 cup water
1 tablespoon white wine vinegar
freshly ground black pepper
freshly grated nutmeg
Directions
Cut the leaves from the radishes, leaving about 1/2 inch of green attached.
Scrub the radishes.
Wash the greens well, coarsely chop them, and keep separate.
In a 10 to 12-inch skillet with a tight-fitting lid, melt the butter with the brown sugar and 1/2 teaspoon salt over medium-high heat.
Add the water and radishes and bring to a boil.
Reduce the heat to medium-low, cover, and simmer gently until the radishes can be easily pierced with a knife but are not completely soft, about 3 minutes.
Spread the greens over the radishes and raise the heat to return the liquid to a boil.
Reduce the heat to medium-low, cover, and simmer gently until the greens are emerald colored and tender, about 5 more minutes.
Use tongs to transfer the greens to a large bowl or serving dish, first pressing the excess liquid out of the greens against the side of the pan.
Add the vinegar, pepper to taste and a few gratings of nutmeg to the liquid remaining in the pan and bring to a boil over high heat.
Boil, uncovered, until the liquid has turned syrupy (you'll end up with about 2 tablespoons), about 2 minutes.
Taste and add a little more salt and/or brown sugar if needed.
Return the radishes and greens to the pan and fold gently with a rubber spatula to coat them without mashing the radishes.
Serve.
Soba Noodles With Shiitake Mushrooms And Radish Recipe
Radish And Citrus Salad With Candied Shallots Recipe
Spicy Vegan Dragon Noodle Salad Recipe