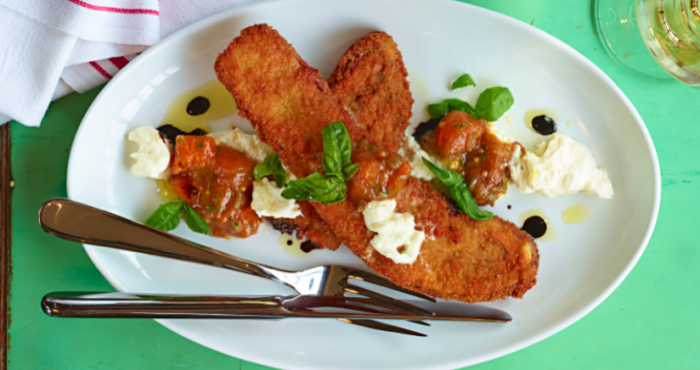 There an impressive menu at Clarkson, a new restaurant by Georges Forgeois of Bar Tabac and Cercle Rouge fame, right on the border of NYC's Greenwich Village. We dreamed about this outstanding burrata dish long after devouring the final bite. There's always room at the table for burrata, that wonderful creamy-stretchy mozzarella that pairs so perfectly with ripe tomatoes.
Sadly we're still a few months away from those, but we'll eat crunchy, tender fried eggplant in just about any application, especially when its residual heat melts the burrata slightly, which all goes together so well with the persimmon mostarda…well, you'll see.
Ingredients
1

ball

burrata or stracciatella

1/2

bunch

torn basil leaves

extra virgin olive oil

aged balsamic vinegar
Eggplant
2

Japanese eggplant, sliced lengthwise into 1/4 inch pieces and soaked in 16 cups cold water with 2 tablespoons salt

1

cup

ground panko bread crumbs

2

whole eggs

1/2

cup

all-purpose flour, seasoned with salt

8

cups

vegetable oil, for frying
Persimmon mostarda
6

ripe persimmons, peeled and diced (remove core)

1

shallot, minced

2

tablespoons

extra virgin olive oil

1/4

cup

sugar

1/2

cup

red wine vinegar

1

tablespoon

yellow mustard seeds

2

teaspoons

yellow mustard powder

1

tablespoon

Dijon mustard

1/2

cup

cold water

1

tablespoon

chopped parsley

1

tablespoon

chopped chives

Salt and pepper
Directions
For the eggplant:
Soak eggplant for at least 1 hour then remove from water and dry on paper towels.

Crack and whisk eggs with 1 tablespoon cold water and place in a large shallow bowl. Bread eggplant as follows: Coat in flour and dust off excess, dip in egg wash, then coat in breadcrumbs.
For the persimmon mostarda:
Sweat shallot in olive oil until translucent. Add in sugar, mustard seeds, mustard powder and Dijon mustard, cook for a minute, then deglaze with red wine vinegar. Cook down to paste and fold in persimmons, herbs and cold water. Season with salt and pepper.
For assembly:
Heat oil to 350 degrees and flash fry eggplant until golden brown and crispy. Pat dry on paper towels and season with salt.

Layer with the burrata and dress plate with dabs of the mostarda and torn basil leaves. Drizzle plate with extra virgin olive oil and aged balsamic vinegar.
Try out these eggplant dishes on Food Republic: