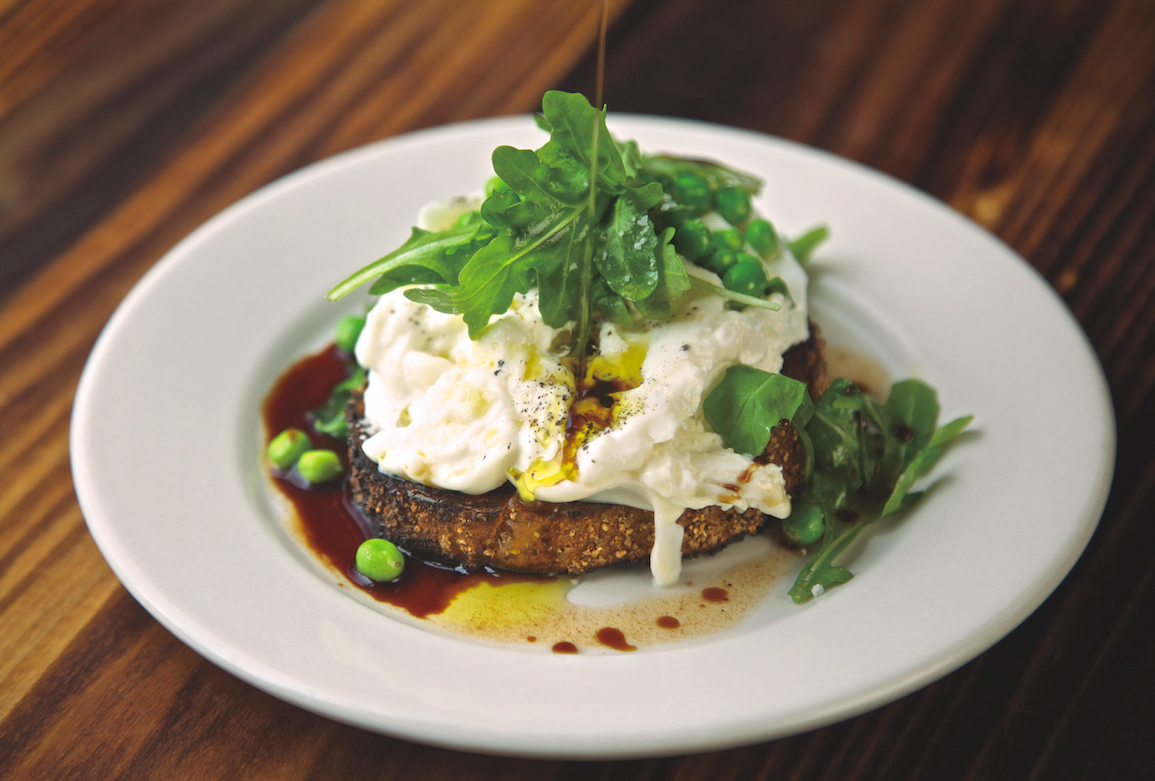 New York City may be a renowned global food hub. But just north of the Tri-State Area lies the rich, verdant Hudson Valley — home to wonderful farms, cheese producers and craft distilleries (plus restaurants that use the local products to their full use). A new cookbook, Hudson Valley Chef's Table, is a compilation of recipes from beloved restaurants from Westchester to Columbia counties. You can count us in on this one, particularly when fresh butter and burrata is involved.
This recipe for fettunta (the Tuscan version of bruschetta or crostini) comes from chef Christian Petroni at Fortina in Armonk, NY.
Ingredients
Fettunta
8

slices

crusty Italian bread

1/2

cup

extra virgin olive oil

3

- 4 cloves

garlic

Maldon sea salt, to taste
Assembly
1

pound

very fresh burrata cheese

1

cup

arugula

1

tablespoon

olive oil

1

teaspoon

lemon juice

3/4

cup

raw English peas

3

tablespoons

vin cotto (you may substitute saba or a 12-18 year old aged balsamic vinegar)

2

tablespoons

butter

1/4

teaspoon

sel gris, or to taste
Directions
For the fettunta:
Cut bread into 1/2-inch slices.
Grill (or broil) until the bread is brown and slightly charred.
Scrape surface with garlic cloves.
Saturate the slices with olive oil and finish with Maldon salt to taste.
For assembly:
Place the slices of fettunta onto plates.
Divide the burrata onto the slices of fettunta.
In a bowl, toss the arugula leaves with olive oil and lemon, to taste. Set aside.
In a small pan set over medium heat, melt and cook the butter until it becomes lightly brown and begins to smell slightly nutty. Remove from heat.
Place the arugula leaves over the burrata and garnish with peas.
Drizzle plates and fettunta with vin cotto and brown butter.
Scatter with sel gris and serve.
Find more burrata recipes on Food Republic: