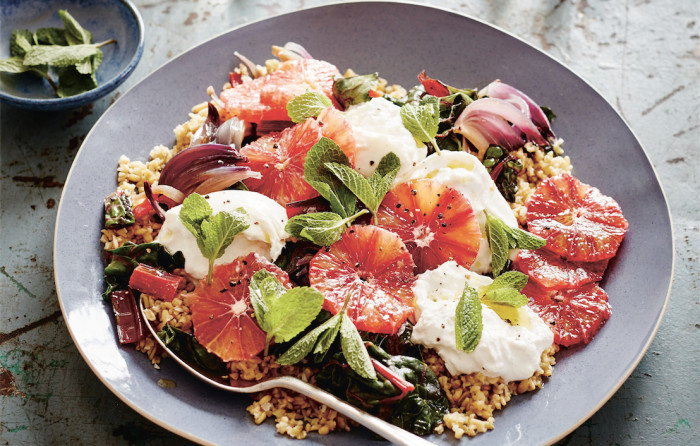 If your home-cooked meals aren't complete without a squeeze of citrus or dash of zest, there's a new cookbook by British recipe developer and food writer Catherine Phipps. Bring a little zeal to every meal of the day with Citrus. This blood orange, burrata and freekeh salad is about as zesty as it gets.
This is a very happy confluence of ingredients; smoky nuttiness from the freekeh, earthiness from the chard, a creamy sweetness from the burrata, all pulled together by the fragrant, sweet-sour citrus. The bergamot is purely optional as its flavour is subtle here, but if you can, please do: bergamots are still in season (just) when blood oranges come in, so it should be possible to find them. Use lemon zest instead if not.
Ingredients
2/3

cup

freekeh

2 1/2

cups

chicken or vegetable stock

2

garlic cloves, finely chopped

1

teaspoon

finely grated bergamot zest (or lemon zest)

Juice of 1/2 bergamot (or lemon)

1

tablespoon

olive oil, plus extra for drizzling

2

small red onions, sliced vertically into thin wedges

A

large bunch

chard, shredded

3 1/2

tablespoons

water

2

large blood or blush oranges, peeled and sliced, any juice squeezed from the peel, reserved

1

large or 2 small burrata

A

handful

mint leaves

sea salt and freshly ground black pepper
Directions
For the salad
First cook the freekeh. Soak it in plenty of cold water for 5 minutes, then drain and rinse thoroughly. Put in a medium saucepan with the stock, garlic and zest. Season with salt, then bring to the boil and leave to simmer for 15–20 minutes until cooked – it should be plumped up but still with some bite. Add the bergamot juice and leave to stand for a few minutes before straining.

Heat the olive oil in a large frying pan. Add the onion wedges and sauté over a medium heat until starting to turn translucent – you want them softened but not completely collapsed. Add the chard, along with the water, and cook over a gentle heat until the chard has wilted down and the stems are still al dente. Season with salt and pepper.

Arrange the freekeh over a large platter and top with the onions and chard. Pour over any reserved juice from the blood oranges – there should be a fair bit. Break up the burrata over the salad, then top with the orange slices and mint leaves. Drizzle over a little olive oil.