Burnt Caramel And Sea Salt Sticky Buns Recipe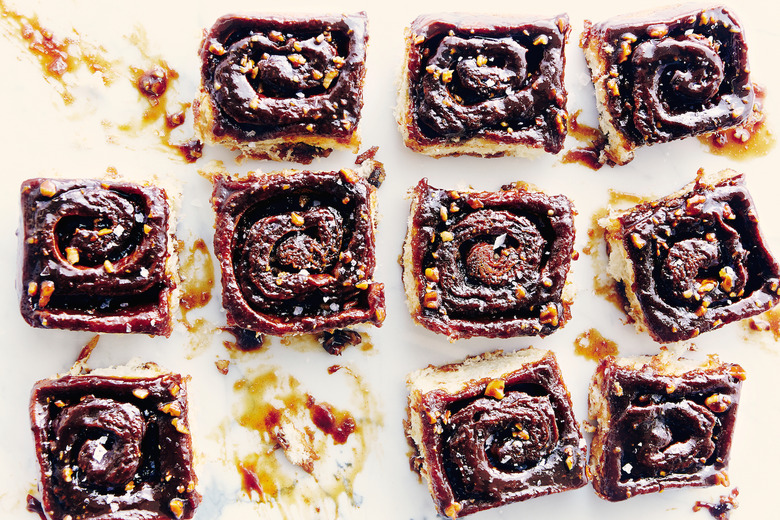 We may receive a commission on purchases made from links.
Afraid to bake because you think you'll mess it up? Grab a copy of blogger-turned-cookbook author Charmian Christie's The Messy Baker and break out that flour. Whether you're a shaky-handed cake fiend or a pie lover who just can't seem to make an aesthetically pleasing pastry, there's a recipe in here for you. Enjoy these sticky buns warm out of the oven for an unforgettable treat.
This is the perfect recipe for a rainy weekend. The smells of yeast and cinnamon along with the burnt caramel come together in an aroma so enticing, you'll be willing to burn your fingers to grab the first piece. Whether you have one with hot coffee, cold milk, or by itself, this tender, decadent sticky bun is best enjoyed while still warm.
Burnt Caramel And Sea Salt Sticky Buns Recipe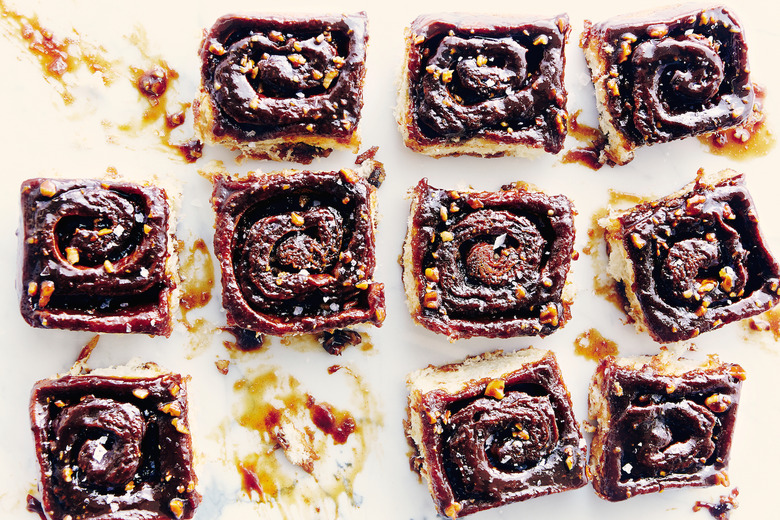 Ingredients
1 package (2 1/4 teaspoons) active dry yeast
1/2 cup warm water (about 100 degrees F)
1/3 cup granulated sugar
1/4 cup unsalted butter
1/2 cup sour cream
1/2 cup milk
1 tablespoon pure vanilla extract
1 teaspoon fine sea salt
1 egg
4 cups all purpose flour
1 1/2 cups granulated sugar
1/4 cup water
1/4 cup unsalted butter
1/2 cup heavy cream
1/4 cup butter
1 1/2 cups Demerara or dark brown sugar
1 1/2 tablespoons ground cinnamon
1 cup chopped walnuts
flaky sea salt (such as Maldon)
Directions
In a measuring cup, sprinkle the yeast over the warm water.
Stir the yeast into the water along with 1 teaspoon of the granulated sugar.
Let stand for 5 to 10 minutes, or until foamy.
Meanwhile, in a small saucepan over low heat, combine the remaining granulated sugar, butter, sour cream, milk, vanilla and salt.
Whisk until the butter has melted and the liquid is smooth. The mixture should be slightly warmer than room temperature.
Add the egg and whisk to incorporate. The dough can be mixed by hand in a large bowl or in the bowl of a stand mixer fitted with a dough hook.
Place the yeast mixture, butter mixture and flour in a large bowl and stir until the ingredients come together evenly.
If mixing by hand, when it becomes too stiff to stir, turn the dough onto a lightly floured work surface and knead until smooth and elastic, adding more flour if the dough is sticky. If using a stand mixer, the dough is ready when it pulls away from the side of the bowl and begins to climb up the dough hook.
Pull the dough from the hook and place the dough on a lightly floured work surface.
Knead until smooth and elastic (about a minute).
Transfer to an oiled bowl, cover with plastic wrap, and let rise for 90 minutes to 2 hours, or until doubled in size.
When the dough has almost doubled, make the caramel sauce.
In a heavy-bottomed stainless steel saucepan with high sides, combine the granulated sugar and water.
Cook over high heat, stirring occasionally, until the sugar melts and begins to boil.
Keep cooking without stirring, brushing down the sides with a pastry brush dipped in water as needed.
Boil 6 to 10 minutes, or until the syrup turns a deep amber color. Be careful to keep an eye on this, as it can burn quickly. To avoid scalding yourself, put an oven mitt on the hand that will stir.
Remove the pan from the heat and carefully stir in the butter.
When the butter has been incorporated, stir in the cream. Remain cautious, as it might bubble up again.
Grease a 13 x 9 inch baking dish.
Punch the dough down.
On a floured surface, roll the dough into a rectangle about 20 x 12 inches.
Drizzle the melted butter over the surface of the dough and spread to within 1 inch of the edges using a pastry brush.
In a small bowl, combine the Demerara or brown sugar and cinnamon.
Sprinkle the buttered surface with the cinnamon sugar and walnuts.
Roll up the dough, starting with the long side. Press firmly to secure the roll.
Cut the dough into 12 pieces about 1 1/2 inches thick. If your ends are terribly uneven and have no filling, as is always the case with mine, trim and discard the ends.
Pour the caramel sauce into the baking dish.
Arrange the 12 buns on top, cut side down.
Cover with a tea towel and let rise for about 45 minutes, or until doubled in size.
While the buns rise, preheat the oven to 350°F and line a rimmed baking sheet with foil.
Bake for 35-40 minutes, or until golden brown. Remove from the oven and let stand for 5 minutes.
While wearing oven mitts, place the rimmed baking sheet on top of the buns and invert them onto the baking sheet.
Scrape the caramel from the baking dish over the buns.
Sprinkle with flaky sea salt. Allow to cool slightly before eating.
Pumpkin Ale Cinnamon Roll Recipe
Apple Turnovers Recipe
Cappuccino Cinnamon Pecan Muffins Recipe